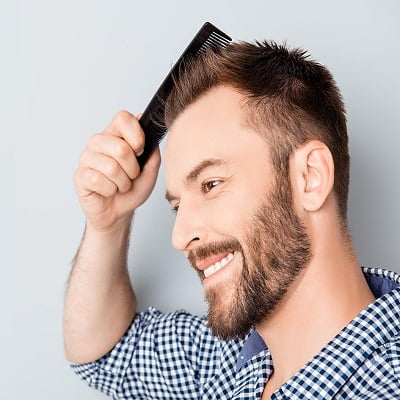 In previous decades, Baldness was a sign of low confidence and awkwardness but now it is treatable. There are a lot of advanced cosmetics treatments that are used for hair restoration but one of the permanent solutions is Hair Transplant.
On this blog page, we are going to cover information related to Hair Transplant Cost and Procedure as well as its benefits and results. So, keep reading for helpful information!
What is Hair Transplant Surgery?
Generally, hair transplanting surgery is one of the advanced options in cosmetics treatments that are performed for implanting hair follicles of a candidate's own hair. It is a minimally invasive procedure and also requires local anesthesia during the surgery. It is suitable for every man and woman with specific candidacy criteria.
However, there are two types of methods that are used to perform for transplanting hair, one is FUE – which extract hair follicles individually and implants them with one by one graft on patchy areas. Another one is FUT – also known as the strip method that is used to perform by extracting a strip of hair follicles usually from the backside of the scalp and implant it on the bald area.
Results and Success Rate of Hair Transplantation:
According to SKN Cosmetics, the results are effective, long-lasting and permanent. The candidate will start to observe the growth of hair after 3 to 4 months when the treated area gets healed properly. Final results can be seen after 10 to 12 months and the growth of hair will be natural and thick. Moreover, the success rate of hair transplantation is 86% to 96% this percentage shows that it is a successful treatment option.
However, it is necessary to choose an Experienced Surgeon for transplanting hair with his/her expertise. And another factor for getting effective results is to take good care of your treated area during the recovery period and in the future.
8 Amazing Benefits:
There are a lot of benefits to those who choose hair transplanting surgery without thinking of another option. The common benefits are mentioned below:
It is a minimally invasive procedure.
No pain, more gain after the treatment.
Effective, satisfying and permanent solution.
You will get natural hair growth.
Suitable for both man and woman candidates.
There are no major side effects in it.
It will improve and enhance your facial appearance.
Your self-confidence will be boosted up.
Complete Procedure:
The procedure of hair transplantation will start from your initial consultation where your surgeon will examine your baldness condition and take some routine tests. Also, the practitioner will prescribe a few precautions to follow for preventing complications during and after the surgery. For example, do not take blood thinners, avoid smoking or drinking alcohol and keep yourself hydrated.
On the day of the procedure, it will be performed by an experienced surgeon and under local anesthesia. The simple procedural steps are mentioned below:
The practitioner will inject anesthesia on the donor side.
After that, the follicles will be extracted from the backside of the head.
Then, the practitioner will prepare the recipient area by injecting anesthesia and making a tiny incision.
After that, the extracted grafts will implant on these tiny incisions.
In the end, the practitioner will complete the procedure and put on a bandage.
Therefore, the duration of this treatment is from 3 to 5 hours or it may depend on the requirements of candidates. After that, you can go home and at least take some rest for a few days. The aftercare instructions are necessary to follow for taking good care during the recovery. Common instructions are mentioned below:
Avoid taking blood thinners like aspirin.
Stop taking smoking, drinking alcohol and other medications.
Don't touch, rub or scratch the area.
If you feel any pains then use painkillers and antibiotics.
Strictly not allowed of dyeing your hair, chemicals can affect the area.
Sleep in a straight position.
Keep yourself hydrated and take a healthy diet.
Cost of Hair Transplant at SKN Cosmetics:
Apparently, the average cost range of the Hair Transplant Clinic in Islamabad is from 70000 PKR To 200,000 PKR. It is necessary to understand that the procedure of hair transplant can only be handled by expert surgeons and it is a delicate surgery. The treatment cannot be offered at cheap rates so always understand that you are going to pay for quality work. However, there are a few factors that can affect the cost of your treatment, such as:
The Experienced Surgeon's fee.
Location and Reputation of the clinic.
Technique type – FUT or FUE.
A number of grafts.
Other supporting charges.
Furthermore, if you want to know more about Hair Transplant costs and Procedures then you can contact us or visit our clinic anytime.
Final Words!
Hair transplant is an effective and advanced cosmetic treatment that is a permanent solution for baldness and modification of your facial appearance. Somehow, if you want to get this hair restoration treatment in a reasonable cost range then feel free to consult SKN Cosmetics. We are here to give you satisfying results with a successful experience.