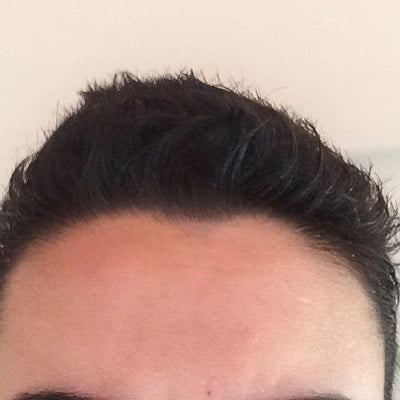 Generally, the face is a notable feature of any personality and a hairline defines the enhancement of the hair. An accurate hairline defines the beauty of the forehead but what if it recedes and shows empty spots in it? No doubt, many people get unhappy when they observe the hairline is receding and with their disproportional big forehead. 
It is a common phenomenon in both male or female but mostly it affects men more as compared to women. The average space is 5cm to 6cm and if it exceeds the limit then it would be considered unreasonable.   
If you think that a receding forehead makes you look old than actual age then you should conceal it permanently through Hair Transplant For Forehead Reduction In Islamabad Pakistan. This blog post will cover the procedure, its causes, outcomes and many more. 
Overview:
According to SKN cosmetics, a narrow forehead can be improved with cosmetic treatments. Our clinical surgeons review the condition first in case the problem is caused by male/female pattern hair fall or a candidate have natural by birth, it depends on several conditions. 
Such corrections in hairline for attractive temple can be performed through a process of hair transplant. No doubt, it is an effective procedure that can easily make the unattractive look into an impressive look. Our surgeons can easily and skillfully perform this procedure for enhancement of the forehead. 
Cause of Big Foreheads:
As mentioned above, the narrow temple can be caused by pattern hair fall or maybe a person was born with this look. Whereas, there can be several reasons for having a big forehead or receding hairline. Some of the common causes are mentioned below: 
It is typically caused by a hereditary condition

Several hormonal issues make hair follicles weak

Due to genetics

Applying several lifestyles like tight hairstyles etc

By using fake hair products during styling

Thin and uneven hairline naturally
 So, it depends on the different conditions of a candidate. It is required to come for an initial consultation where our experienced hair surgeons will examine the causes and recommend you a suitable treatment. 
Hair Transplanting for Uneven Hairline:
Hair transplanting is a frequent process that is known as extracting hair follicle from the donor site and insert them into the treated area. For forehead reduction, this procedure is the same and it doesn't differ much from the traditional one. The procedure is handled skillfully and performed for the forehead under local anaesthesia accordingly. 
In the procedure of forehead reduction, a dermatologist will extract healthy follicle units of hair from the scalp and place them on the front side of the hairline where the empty spaces are. It could be done by two advanced methods of hair transplanting, either FUE or FUT. It depends on the desired goals and suitability of the candidate's condition respectively. 
No doubt, performing transplanting technique for a front site is quite difficult due to sensitive adjustment. But with SKN cosmetic, a patient will surely achieve his/her desired look. Our experienced dermatologist performs such surgeries skillfully and full of concentration while contouring, directing and distributing hair follicles. As in results, an accurate proportional forehead will be compatible with the rest of the face. 
The Results:
The outcomes of  Hair Transplant For Forehead Reduction In Islamabad Pakistan can be obtained a minimum of two months. A patient will observe that black dots will appear as newly transplanted hair within 7 to 14 days after the procedure. The growth of these hair hairs will be faster and natural, you will get an inch long hair on your empty forehead. 
The most important factor for achieving desired and speedy results is to follow the instruction that your surgeon prescribed you according to health condition after the treatment. Yes, of course, you will get long-lasting and amazing outcomes there will be no need to hide your big forehead from different temporary hairstyles and products. 
Candidacy Criteria:
Generally, there is no long list of conditions to become an ideal candidate but the good candidates for big forehead correction are both men and women with a highly receding hairline who don't have any family member like this. The treatment can only be performed when a person fulfils these criteria and it is mentioned below: 
A candidate should be above 18.

 

Good for those who have healthy hair but need to correct the size.

 

A person needs to give proper shaping for looking attractive.

 

Ideal for those who have a receding hairline.

 

Want to change the proportional look of the face.

 

Best for models who are related to the fashion industry.

 

Someone who must be willing with some realistic expectations.

 
About Cost:
The average cost of a hair transplant for a narrow Forehead is dependent on person to person. Also, few factors can affect the price, mentioned below: 
The expert dermatologist fee.

 

Location of the clinic.

 

Session requirement (if any).

 

The method selection.

 
Further, if someone wants to know more about cost-related queries then feel free to consult the well-known hair transplant clinic known as SKN cosmetics.