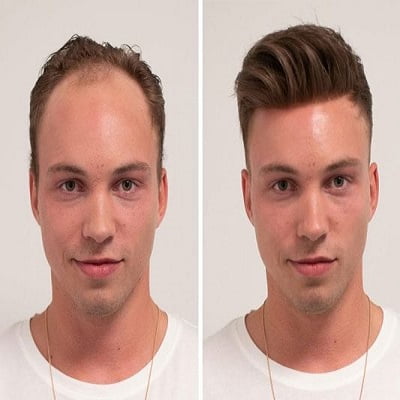 Nowadays, hair problems are getting very common in Pakistan. Both man and woman are individually experiencing many problems related to hair fall. All hair problems are curable if a person treated it at the initial stage. One of them is receding hair-line. This issue occurs in both gender but especially in men, it is the initial sign of baldness.
There are many procedures performed for Hair Transplant for Receding Hairline in Islamabad Pakistan which are proved as impressive and lost lasting. The hair transplantation is a procedure where your practitioner moves hairpieces from the backside of the head and to the front of the head, at the hairline. This implanted hair units will give a full appearance of the hair lining.
The most reasons for receding hair-line are over-styling of hair with heat, tight pulling of hair in pony or braiding, the use of chemicals, colouring of hair and smoking cigarettes.
Why You Need This Treatment?
When it starts appearing in men, it is just because of age or some medical conditions. In many cases like Hair Loss and alopecia, hair restoration treatment is necessary. Most women facing thin hair as compare to reducing hairline and still have possibilities of experiencing a reducing hairline.
 If any candidate is experiencing such issues, he/she need a hair implant treatment.
Symptoms for Receding Hair-Line:
The hair fall becoming a very common problem all around the globe and it always starts with some symptoms. The reducing hairline begins as:
For men, it starts appearing after the age of 20s.
The hair lines move to the upward of the head and the forehead area looks big.
Several Causes: The hair falls out eventually. It happens mostly when the follicles of skin get damaged, some medical history causes that disturb the growth. The outcomes will be a receding hair-line. In several cases, illness, stress, lifestyles choices like smoking and too little proteins in the diet leads to a receding hair-line. Family history and hormone changes are another main cause of this issue.
How it Can Be Treated?
First, for understanding the condition of hair falling, see an experienced practitioner for procedure. He/she can ask several questions like personal and family history from the patient. After that, the pulling test will be performed for how many hair can fall and how easily. By biopsy tissue test, the scalp infection will be checked. In several cases, the blood test is checked for thyroid as well.
After reviewing all test and history, the practitioner will suggest medication or mostly a treatment according to the situation of hair fall. The most Hair Transplant for Receding Hairline in Islamabad Pakistan is two advanced methods of hair restoration. One is 'FUE' and the other one is 'FUT'. Some other surgeries like PRP injections and stem cell hair implanted etc. are also used for many purposes.
These methods can be effective for getting rid of receding hairline and deliver best results so that's how the appearance of hair will be modified and enhanced.
The Outcomes:
According to SKN cosmetics, we provide the best outcomes for leaving a remarkable impact on the personality of our candidates. The results might differ from person to person and according to hair restoration methods. The miraculous results will impress you with natural-looking and you would love your face features.
Aftercare:
The aftercare is necessary for every treatment. When it comes to hair care routine, a candidate should take good care of it. Your practitioner will advise you the helpful instructions and prescribe medication after treatment for preventing pain, swelling and minor infection. Some other instructions are as following:
Do not go out in direct sunlight.
Stop taking blood thinners.
Take prescribed medications.
Do not sleep on the treated side.
Cost:
The cost can be affected by some factors, these factors are:
Practitioner experience and skills.
Method performed.
The medication.
Use of anaesthesia.
Location or area of the clinic.
 Further, if someone of you wants to know more details about cost-related, so feel free to contact us for more information.
Consultation:
If someone is searching the effective Hair Transplant for Receding Hairline in Islamabad Pakistan, feel free to consult SKN cosmetic clinic. We are looking forward to you!