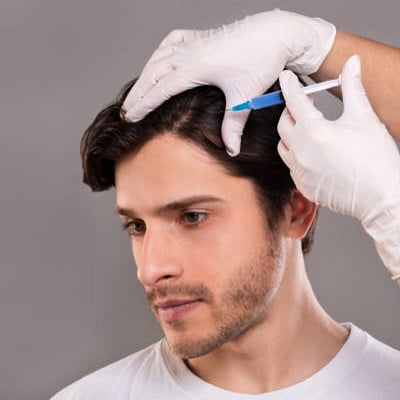 Choosing PRP treatment from Islamabad, Rawalpindi and Pakistan is best choice for your desirable result achievement. So basically, PRP stands for platelet-rich plasma and the treatment is a cure for hair growth as well as non-surgical healing which proceeds within three steps of medical treatment. As you know, this treatment needs at least three sessions, and to have the best possibility of getting the desired achievement, they suggest that PRP injection is administer over three sessions and Four to seven weeks separately. As they advise you or any patient, to accept a single preservation cure every five to twelve months to avail desirable payback. It's the best way to avoid hair transplant in a number of cases.
Sessions requirements & Procedure:
It is very important to consult with your doctor who properly and deep examines your hair failure area. After deciding on this treatment, make sure that you have to explain what is your demand and desire and is your body perfect for the response. These things will decide how many sessions you need for the spotted area. This Plasma is the liquid element of the blood that contains red blood cells, platelets, and white blood cells. The platelets help to not making clots and scab structures in your body and for healing and repairing itself.
By that, this treatment is very simple. The PRP Injection will be injected in different sittings in time to check a big difference in hair growth. After some time, the provider will tell you how many sessions do you need and inform you how much you had control hair loss. The cost will boost up by the number of sessions increase. Some patients take 2-4 sessions into 4 to 6 weeks which will be useful for the control of losing hair.
You will observe after 2 to 3 months or maybe within it, that you have success getting the results by the thickness of hair growth. Your consultants from PRP treatment from Islamabad, Rawalpindi & Pakistan may ask you to renew your treatment by some sessions, so that's how you will be more comfortable than before. Your doctor may take yours before after picture for showing the results and satisfaction.
Any Side-effects:
In this treatment, you are experiencing by inserting injections so maybe you have to bear a little bit of ache, anxiety, and swelling but these will be temporary for 2 to 4 days.
Benefits:
A few of the benefits are common which are:
This healing will fill your space.
Make your look complete and beautiful.
Painless treatment is better than surgical procedure for hair transplants. It is only a 10 to 20-minute process.
It will enhance a person's blood supply to the follicle.
A person's hair growth will be controlled after that treatment.
Aftercare tips:
After the treatment, it is your responsibility to take good care of yourself. Your doctor/consultant will provide you instructions about aftercare. Some of them are as follow:
Try not to wet your hair side for at least 4 hours after the procedure.
Try to avoid hair products for 7 hours of the day of treatment.
Try to avoid going out for a steam bath and swimming for at least 2-3 days.
Try to avoid your physical activities including gym, exercise, going out in sun for at least 2-3 days after the procedure.
Some tips for hair care after the treatment, are as following:
Make your diet good enough which include vegetable and fresh herbs.
Try to take proteins in your diet.
Vitamin A is also best for the diet.
Do wash your hair regularly.
Use essential oils like coconut, olive, and other oils.
Consulting:
If you desire to consult about PRP treatment from Islamabad, Rawalpindi & Pakistan do visit our clinic which is Skn cosmetics.