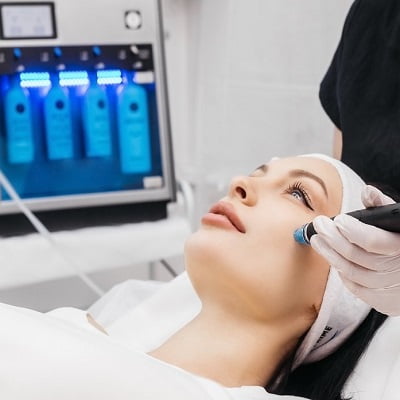 Hydrafacial in Islamabad has gained popularity, especially in recent years, because of its matchless provisions, such as flawless and radiant skin. Nowadays, everyone has a common desire to have beautiful, glowing, and radiant skin, and this pursuit goes beyond gender lines. Individuals seeking rejuvenating and transformative skin can now get their desired skin tone through hydra facial.
What is Hydrafacial?
Hydrafacial is a non-invasive multi-step procedure carried out to improve skin texture, disappear aging signs, and address wrinkles and scars. This treatment is a combination of cleansing, exfoliation, hydration, and antioxidant protection. Various skin concerns and impurities can be addressed through this cosmetic procedure.
Benefits of Hydrafacial:
Hydrafacial in Islamabad removes dirt and impurities from the skin
Through exfoliation, it removes dead skin cells from the body, appearing a soft and smooth complexion
This procedure nourishes the skin and offers a moisturized appearance
Addresses hyperpigmentation, scars, wrinkles, and discoloration of the skin and adds glow and smoothness
Keeps the skin protected from environmental factors
As this is a non-invasive procedure, everyone can benefit from it, even people who avoid painful procedures
No incisions are required in this treatment, limiting the downtime limited
It is a personalized procedure, and individuals' concerns are addressed properly
Procedure:
This comprehensive skin rejuvenation process involves several steps, such as cleansing, exfoliation, extraction, and hydration. Following is the breakdown of each step to understand the process.
The process begins with a gentle skin cleansing aimed at removing debris and impurities from the skin's surface. After removing impurities, the exfoliation process is done to also remove the dead skin cells. Exfoliation not only eliminates dead cells but also reveals a brighter complexion. After that, gentle suction or acid peel is applied to the skin to further purify the skin by eliminating the remaining impurities. Then a combination of hydration and nourishing serum is introduced into the skin. This serum improves the elasticity of the skin in one hand and, secondly, keeps the skin moisturized. Lastly, a protected serum is applied to the skin to keep the skin protected and rejuvenated for a more extended period.
How many times in two months do I need hydrafacial?
Certainly, there is no one-size-fits-all answer. In the first place, we need to understand various factors that determine the need and requirement of the treatment. Factors such as skin type, specific objectives of an individual, and the extent and outcome of previous procedures should be determined before finalizing the answer for a specific person. Further, the generally recommended period for this treatment is once a month or once in 4 weeks. So, based on this generalized guideline, we can state that in a matter of two months, we can have only two hydrafacial.
Suitable Candidates for Hydrafacial in Islamabad
It is a non-invasive, safe, and effective skincare treatment that benefits all skin types equally. It means people having normal, dry, or oily skin can use this procedure to glow their skins
Individuals seeking to address aging signs such as fine lines, wrinkles, and scars can use this procedure to disappear aging signs
People having congested pores can get smoother skin through this non-invasive treatment
Some people have uneven skin tone and experience hyperpigmentation; they can get rid of these conditions through this treatment
It is the best skin rejuvenating treatment for special events such as weddings or other important occasions.
People seeking immediate results are required to use the ethos procedure
Lastly, people who are aiming to enhance the glow and beauty of their skin can take advantage of this procedure.
Number of Sessions for Optimized Results
The number of sessions may vary because of an individual's skin complexion and personal objectives. But a course of 4 to 6 treatments is generally performed and also suggested for optimal results. Notably, there must be a gap of approximately 4 weeks between two sessions. These are general figures and do not meet an individual's personalized requirements. That's why it is always recommended to consult with your practitioner to attain optimal results.
All Summed Up!
Hydrafacial in Islamabad revitalizes the skin tone and offers a desired skin complexion. This process is a combination of several skincare treatments and offers a multitude of benefits. It lightens up the skin, adds elasticity, offers a refined complexion, and keeps the skin protected from the impacts of the environment. Further, after getting a session, we should wait for a month to go for the next session because, in two months, we can have only two sessions for optimal results.
Hydrafacial at SKN Cosmetics Clinic rejuvenates your skin and improves your skin tone and complexion. The team of experts here offers personalized treatment to provide desired results.