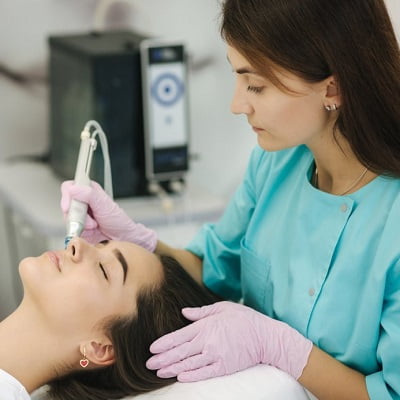 The use of face wash and cosmetic products isn't enough for making your skin healthy and smooth. It is important to take good care of your skin because the sign of healthy skin is that it looks fresh, smooth and glowing. Otherwise, people who don't care about their skin have experienced several skin issues such as dryness, dullness, discoloration and rough textures.
However, getting an effective skincare treatment which is also a popular solution for every man and woman is known as Hydrafacial Treatment. Many people are unaware that How often should you get the Hydrafacial. So, tread this blog post to know related information about the treatment.
To Know About Hydra-Facial:
Hydrafacial – is a skincare treatment that is used to perform with specific tools and it includes various products like cleansing, chemical exfoliants, serums (Hyaluronic acid and antioxidants) and masks, hydrating solutions and removal of blackheads with a sucking device. The entire treatment is customized and you can include the steps according to your skin condition. However, the treatment is suitable for both men and women who want to remove the impurities of the skin and eliminate the dead skin cells.
How Does It Work?
According to SKN Cosmetics, the practitioner will clean the skin and perform all the steps accordingly. The pen type of tool will suck all the impurities from your skin and remove the dead skin cell. After that, the serums are applied to the skin and masks. The duration of the procedure will take 20 to 30 minutes and you can go home after the treatment. There is no recovery time and it may need multiple sittings for glowing skin.
How Long Do The Results Last?
After the hydra facial, you will get effective, immediate and satisfying results of the skin treatment. on the first or second day, you may not feel the instant change but after that, the skin will look young, fresh and smooth. However, the practitioner will be experienced and professional and will treat your skin perfectly. So, it is better to take good care even after the treatment.
8 Amazing Benefits:
Generally, there are various benefits of this skin treatment and some common benefits are mentioned below:
Suitable for every skin type.
Make your skin soft and smooth.
Improve the skin tone and texture.
It will eliminate blackheads from the face.
The pores will unclog.
Collagen production will be stimulated.
Boost up your self-image and confidence.
Enhance the appearance of hyperpigmentation.
How Repeatedly You Can Get This Facial Treatment?
If you aren't aware of How often should you get the Hydrafacial then you need to consult the best dermatologist at SKN Clinic who will examine your skin condition properly? After that, they will strongly recommend that you can get a hydra facial every two weeks. Yes, you can repeat this facial treatment after two to three weeks.
However, the dermatologist will examine your skin type and recommend you suitable skin products by knowing your expectations. Everyone doesn't have the same skin type and condition so the session's requirements will be also discussed in the consultation session. Following your practitioner's suggestions will make your skin healthy, smooth and young.
The Cost of Hydrafacial:
The average Price of Hydrafacial in Islamabad ranges between 5000 PKR to 30,000 PKR Per Session. Moreover, there are a few factors that can impact the cost of the treatment. Common factors are: choosing an expert practitioner, location and reputation of the clinic, number of sessions and other supporting charges.
Furthermore, you can get more information about the cost and its factors by calling us or visiting our clinic anytime. We will provide every bit of information according to your concerns.
A Note From SKN Clinic
For those people who have skin issues like dryness, fine lines, and rough and oily skin then Hydrafacial is the best solution for all skins. You will get an instant glow, youthful effects and soft skin without any complications and risks. The cost will be affordable and our dermatologists are experienced. So, appoint us for a memorable experience!