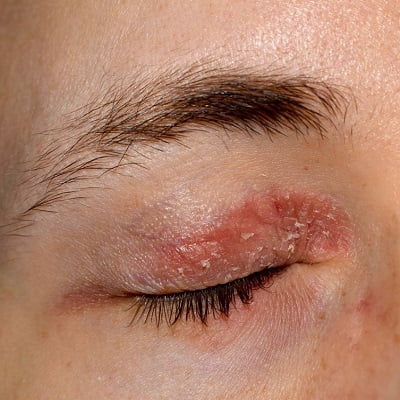 The eye and the surrounding area are affected by various diseases and eczema types. These can be caused by an irritant or allergen from the outside and are more common in those with eczema elsewhere on the body, mainly those with atopic eczema and similar diseases. Now you might be confused about How To Treat Eczema On Your Eyelids?
In this blog post, you will learn about the causes of eczema on eyelids, the best treatments for it, expected results and many more. So, read the following details for making you stress-free. 
What Are The Causes Of Eczema On Eyelids?
There are two categories of eyelid dermatitis: allergic contact dermatitis and irritant contact dermatitis. An external irritant or a physical trigger can bring on eyelid irritant contact dermatitis. Such as
Extreme heat or cold.

Extreme humidity.

Rubbing or scratching again and again.

You are excessively washing your hands with hot water and soap.

Dust or pollution.

Cosmetics/makeup (mascara, eyeliner, eye shadow and/or sunscreen).

Soaps, detergents, bleach.

Some metals.

Scratchy wool.

Plants like peppers and poinsettias.
Best Treatments For Eyelids Eczema: 
According to SKN Cosmetic Clinic, there are mild or moderate eyelid eczema treatments. It requires proper examination by skin specialists. After that, they will recommend you a suitable and effective treatment according to your skin problem. Otherwise, some common and best treatments are mentioned below
Over-the-counter (OTC) treatment –

Eczema-related itchiness can be treated with a corticosteroid. Before using it near your eyes, though, consult your doctor. Antihistamines can improve allergic reactions and may lessen eczema-related itching and irritation.
Skincare routine –

sometimes, such conditions are treated by medication, medical creams and skin care products. You have to continue this recommended routine until it shows you effective results. 
How To Prevent In Future? 
Since several things can cause eyelid dermatitis, you might need to take steps to prevent getting it again after being exposed to an irritant. Here are some tips for protecting your eyes from allergens and contaminants:
Avoid using skincare and cosmetics that has expired. To prevent irritation, only use cosmetics that haven't displayed any signs of expiration.

Avoid using strong chemicals on the eyelids. This might consist of retinols, exfoliants, benzoyl peroxide, and other potent skincare chemicals.

When introducing new products, go gently. Just in case, only experiment with one new facial product at a time. It will be simpler to identify the culprit.

Treat your eyes gently. Avoid rubbing or touching your eyes excessively as this can raise the risk of infection.

Don't use too many substances in skin care. Look for common irritants on the ingredient labels of moisturizers and cosmetics. These could include formaldehyde, lanolin, parabens, or fragrance (commonly referred to as "perfume" or "parfum"). Some people are not allergic to these components. Brands of makeup that are hypoallergenic might be helpful.

Put on gloves and safety glasses. In instances where irritants may come into contact with your hands, face, or are floating in the air, goggles, protective glasses, and gloves can be helpful.

Apply moderate soaps. Check soaps, body washes, and hair products for any irritating ingredients, just like you would with moisturizers and cosmetics

Watch what you eat. Avoid those foods if you have any food allergies because they may cause eyelid dermatitis.
Are Treatments Safe And Suitable For Everyone?
Yes, such treatments are usually safe and effective for all skin types because your skin specialist will never suggest you anything against your skin. First, they will examine your condition of the skin and then recommend you a suitable treatment. 
On the other hand, it can be risky and harmful when you apply anything on your skin without asking your skin doctor. It can harm your skin and can react even worst. So, you have to be careful in this matter. 
All Summed Up!
Therefore, people get confused about How To Treat Eczema On Your Eyelids which isn't a big problem. It can be treated by non-surgical and simple treatment options without affecting your skin. But most importantly, you have to consult with SKN Cosmetic Clinic experts. They will never disappoint you but make your skin flawless and eczema free. So, don't wait and get your appointment today.