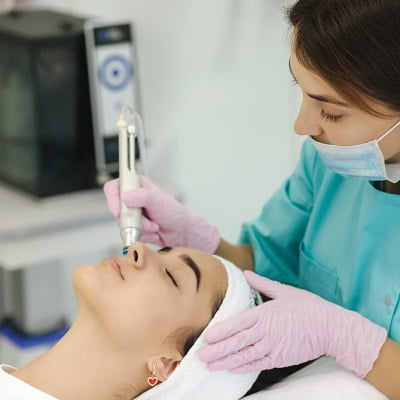 Men and women with dry skin tend to face several problems when it comes to getting facials. Most facials are aimed at getting rid of oils from the skin to make the skin *dryer* and less oily. Unfortunately, these facial treatments only work on oily skin types and can make dry skin types even dryer. This leads to the skin breaking out and cracking.
There are a number of treatments available for dry skin types, but unfortunately, they don't last that long. That's where the latest facial treatment for dry skin comes in; a hydra facial. This spa treatment involves using different hydro peel tips to give your skin a smooth and hydrated feel. This beauty routine is popular mostly in the winter season when the skin gets completely dry no matter how much moisturizer you put on it. Hydrafacial Benefits for Dry Skin in Islamabad involve leaving the patient with radiant, glowing skin that feels moisturized and soft to the touch.
How is This Facial Performed?
This beauty treatment is carried out using a machine known as the Hydrafacial, which uses four different hydro peel tips to give you the best facial experience money can buy! This procedure is a powerful and non-invasive spa treatment that cleanses, exfoliates, extracts, hydrates, and antioxidants the skin while moisturizing it at the same time.
The facial lasts about forty minutes and yields instant results. Recovery time is not needed as the skin does not require any healing. This procedure uses a vacuum pen to extract all the dead cells out of the pores and then infuses hydrating serums into the skin. This leaves your skin looking radiant and glowy.
 What Are The Hydrafacial Benefits for Dry Skin in Islamabad?
The spa treatment has numerous benefits, especially for the subcontinent dry skin. Most people in the subcontinent suffer from dry skin due to the harsh weather conditions that can cause the skin to excrete less facial oils and moisture. Following are some benefits that you would be witnessing after getting this treatment:
Your skin will feel hydrated, soft, and radiant
Your complexion will be even, and hyperpigmentation will be minimized
Your skin will have reduced wrinkles and aging signs such as spots and fine line
This treatment will minimize dark spots and sun damage to your face.
Your skin will feel refreshed and glowy
You will notice that your face will appear brighter as the dead cells have been removed from the skin
These benefits apply to all skin types. So even if you have oily skin, your skin will feel hydrated and glowy after getting this treatment done!
How Much Does This Facial Cost?
Hydrafacial treatment usually costs more than any regular facial. Getting this treatment in the Capital costs more as compared to getting it done in any other city. That's because the Capital offers the best HydraFacials in the entire country. Depending on the location, the expertise of the beauty technician, and the number of times you get this treatment done, it will cost you an average of 5,000 PKR to PKR 30,000.
Initially, you will need to get the treatment done twice a month; after the initial sessions, you will need to get this facial done every other month.
Who Should Get This Treatment?
It is not necessary that only people with dry skin can get this treatment. Following are some of the categories of people who can opt for this treatment:
People suffering from acne
Men and women suffering from discoloration
Individuals who have oily skin
Book an Appointment!
SKN Cosmetics offers the best facials and beauty treatments in the Capital. Our team of professionals will make you feel at home while you get the treatments done! So sign up today and get a free consultation!