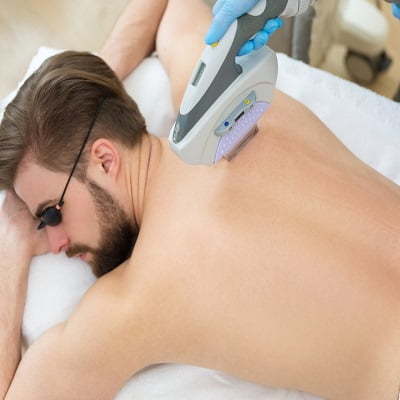 Many people assume that hair removal can be for women only. It is said to be wrong that only females are conscious of their beauty and physical appearance. As there are many men who are also experiencing unwanted hair problems that are affecting their quality of life.
However, if you are the one who wants to get rid of this unwanted hair then consult SKN cosmetics for Laser hair removal for men in Islamabad. In this blog post, you will learn all about its working, results, cost and efficiency of the treatment. So, keep reading!
Laser Hair Removal – For Men:
A hair removing procedure that is performed by advanced laser therapy for getting rid of unwanted hair is known as Laser hair removal treatment. It applies light energy with a specific wavelength to target the hair follicle and it will destroy the follicle. Also, it provides long-lasting results even to men's skin. The most common targeted body areas for hair removal are breadline, neck, chest, shoulders, back or legs. A lot of men approach this treatment for aesthetic purposes, permanent hair reduction, convenient and cost-effective procedures and some of the male candidates have thick hair on the body.
How Does Laser Works?
According to SKN Cosmetics, the practitioner will apply numbing cream and use a laser beam that produces light energy to enter the hair follicle and destroy the follicle. Once the hair follicle is destroyed, it will no longer grow. The total duration of the procedure will be 30 minutes as it depends on the size of the treated area. For getting effective results, you may need to follow the requirements of the session as this procedure will give you effective results after getting 5 to 8 sessions with apart of 4 weeks.
Why Men Choose Laser For Hair Removal?
This procedure was very common for women because they are more conscious about their beauty and have clear smooth skin. But nowadays, men are involved too for being perfect in their physical appearance. The most undergoing area of men for laser hair removal is beard line, chest or back. They choose this treatment for permanent results and their hair becomes less visible. However, it will not require shaving or waxing the area and experiencing irritation.
Final Results & Success Rate:
After getting laser therapy, the results will be immediate, effective and long-lasting. You will observe a dramatic change when you follow the requirements of laser sessions according to your hair texture. Moreover, the performance of the practitioner plays a major role in obtaining permanent and satisfying outcomes. So, you should take care of your treated area and do follow the touch-up sessions requirement.
Is it a Safe and Painless Procedure?
Yes! Of course, it is the safest hair-removing treatment that provides amazing results without any major side effects and complications. Many candidates find this treatment as comfortable and quickest that takes only 15 to 30 minutes. But few of them feel it could be painful treatment and after that side effects may attack their treated area. These all rumours are false.
Laser treatment can be painless by giving anesthesia or applying numbing cream. There are only a few mild side effects like redness or irritations that can subside within 2 to 3 days. Maybe, it could go wrong and be unsafe if you choose an unprofessional practitioner for your treatment.
The Cost of Laser Hair Removal:
Generally, the average cost of Laser hair removal for men in Islamabad ranges between 3,000 PKR to 20,000 PKR. Also, there are a few factors that can affect your actual cost by including them. Common factors are:
Choosing an experienced practitioner.
Location & reputation of the clinic.
A number of sessions.
According to the area size.
Anesthesia/medication charges.
Other supporting charges.
Moreover, if you want to know more about cost-related queries then you can contact us or visit our clinic – SKN anytime.
All Wind-Up!
Therefore, the laser is an ideal and effective treatment method for men who want to get rid of unwanted hair from the body areas. The results will be immediate and long-lasting without experiencing any complications. Moreover, this procedure is cost-effective option and anyone can afford it. So, don't wait and feel free to consult SKN cosmetics for a memorable experience!