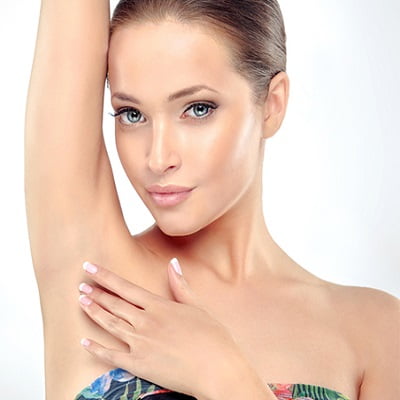 Are you one of them who are feeling embarrassed due to dark underarms? You don't have to worry about it because there are many cosmetic treatments that are used to perform for modifying the affected areas. However, every woman is conscious about their body. Sometimes, the excessive use of deodorants or other causes underarms darker and annoying.
Therefore, there is a particular treatment that will definitely provide effective results is known as Laser treatment. So keep reading this blog post for knowing the procedure as well as Laser Treatment for Dark Underarms Cost in Pakistan. Also, you will get a rough idea of the overall charges.
Laser for Dark Underarms:
According to SKN cosmetics, laser treatment is used to perform for removing the darker skin and provide natural clear skin. Every candidate experiences different issues and they have different pigmentation tones. So, it requires multiple sessions for giving successful results. However, it is necessary to talk with your dermatologist to know every concern related to your issue and they will let you know that how many sessions your affected area requires and which laser treatment is best for you.
Quick Facts:
To know and everything about laser treatment, there are a few quick factors that will summarize the complete information. It is mentioned below:
The total duration of a one-day procedure is 15 to 40 minutes.
Multiple session requirements like a maximum of 5 to 8 sessions.
It doesn't require any type of anesthesia, it is well tolerated.
Completely painless treatment and doesn't require time off work.
Performed by an experienced laser practitioner.
The final results depend on how many shots you get.
Reasonable cost and doesn't cover by any insurance company.
Furthermore, if you want to know more about laser treatment and its session requirements according to your issue then it is important to speak with our expert dermatologists.
The Cost:
The Laser Treatment for Dark Underarms Cost in Pakistan ranges between 4000 PKR to 10000 PKR. Also, it depends on person to person because everyone is not experiencing the same issues. Somehow, it is necessary to talk with your practitioner who will examine your affected area and give you an accurate figure of the cost you will charge.
Cost Factors:
Generally, when a candidate came for the treatment, it is necessary to speak with your dermatologist about your issue and that is how your practitioner examines the area and gives you an exact range of cost. However, there are a few factors that can affect your cost, these are mentioned below:
The Experienced Dermatologist's Fee:
Laser treatment is a procedure that only skillful and professional dermatologists can handle. Otherwise, an unprofessional person will not give you accurate results. Somehow, the unprofessional practitioner also offers low cost for the treatment. So, it will be a good decision if you choose board certified laser specialist and it may affect the cost of the treatment.
Location and Reputation of The Clinic:
Generally, there are many places that don't have reputable clinics and some of them don't have any cosmetic clinics near to them. That is why when people travel from one place to another, they get travel expenses. Another factor that can affect your cost is traveling expenses.
Session Requirements:
Most importantly, this is a multiple-session requiring treatment and it depends on a candidate to candidate that how many sessions an individual needs. Apparently, the treatment is designed as performing 5 to 8 sessions and it depends. So, this factor can affect the cost according to the candidate's concerns.
Other Supporting Charges:
Last but not least there are many people, who rarely get redness or irritation and it may require check-up sessions. So, it may affect the cost of the treatment.
All Summed Up!
Therefore, it is an ideal and effective laser treatment for removing dark underarms without having any pain and irritation. The cost is reasonable and you can get desired results in just a few sessions. However, if you want to get laser treatment for any concern then feel free to consult SKN cosmetics for successful treatment as we have a professional and expert dermatologist who performed successful laser procedures.