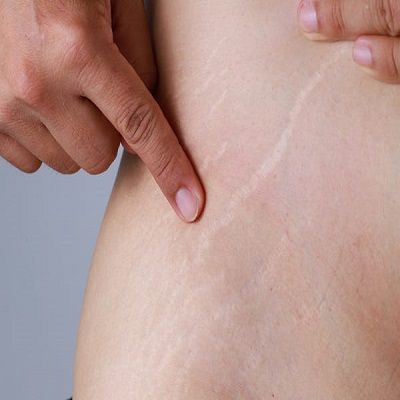 If you are 30 above and have stretch marks, you are not alone. This aesthetic issue has been affecting millions of people, especially women, for the past many areas. Pregnancy brings many unfavorable physical changes in the female body and the Stretched mark is one of these adverse transformations. Furthermore, stretch marks can develop through puberty, genetics, and stress on the skin. This problem seems to occur due to the stretching of the skin. When the skin is stretched beyond its capacity, the architecture of the dermis within the skin is disturbed and narrow, long lines develop on the outer surface.
Causes:
Though stretch mark itself is not counted as a medical issue, certain medical conditions can cause them. These marks can occur due to Marfan syndrome and Cushing's syndrome. Both these syndromes contribute to decreased skin elasticity and we know that when skin loses its elasticity, stretch marks appear on the skin.
Stretch Mark Treatment in Islamabad:
Some of these marks disappear over time while others stay on the skin forever. Luckily, you can get rid of such permanent stretch marks through treatments. Stretch Mark Removal in Islamabad, Rawalpindi & Pakistan is a skincare treatment that focuses on eliminating stretch marks non-invasively with an additional goal of making sure that these marks do not appear again. This cosmetic treatment reduces the appearance of stretch marks, thus helping skin restoring the lost beauty and glow back.
Who is it for?
SKN cosmetics now offers Stretch Mark Removal that ensures that males and females can have smooth and clear skin with the least recovery time. Our professionals use the newest technology to guarantee that people can rejuvenate and resurface their skin without undergoing the knife. There are the following reasons why people could choose Stretch Mark Removal:
If narrow, long-lines are affecting your quality of life
Various studies have shown that stretch mark Removal increases self-confidence so opt for this treatment if you wish to have increased confidence
You want to get a youthful, glowing, and beautiful skin
Stretch marks have appeared on your skin due to pregnancy or puberty
You are physically and mentally in good shape
If you meet the above-mentioned standards, you can receiver our treatment
Results:
Results are not guaranteed. They vary from patient to patient based on the technique used, the severity of stretch marks, and the size of the problem zone. The skin expert will schedule an appointment with you to monitor the progress of the treatment

Preparing for Your Treatment:
You should comply with these instructions to get the maximum benefit out of Stretch Mark Removal in Islamabad, Rawalpindi & Pakistan
Prior to stretch mark removal, set realistic expectations regarding the upshots. This will help in avoiding hurt and angry feelings.
Talk about your medical history in detail with the professional
Quitting smoking a few days before the treatment is helpful
Do not take blood-thinning medications 72 hours prior to the treatment
Options:
Stretch marks can develop on the thigh, stomach, hips, breasts, buttock, and many other body parts. But don't let your smooth skin covered with ugly stretch marks. Choose from our effective stretch mark removal treatment in Islamabad, Pakistan to make them less noticeable.
Laser Skin Resurfacing:
It is the most prevalent method of stretch mark reduction these days. Although lasers are safe and easy to use, for stretch marks a little extra care is required. At SKN Clinic, Laser stretch mark removal is typically done with the DEKA Smartxide Fractional CO2 laser device. Laser wavelengths are directed on the skin to target the deep broken layers and to trigger the generation of elastin and collagen.
Chemical Peels:
A chemical peel is administered to the skin to peel off the damaged layers. However, it's worth mentioning that this option is minimally invasive and requires multiple sessions to produce a significant change.
PRP with Ultrasound:
An amazing non-invasive treatment to improve the appearance of stretch marks. In this treatment, PRP shots are injected in the collagen under the skin to release growth factors in that area.
Post-op:
Some useful tips for smooth and quick recovery after Stretch Mark Recovery in Islamabad are:
Take prescribed medications as per the directions of your doctor
Avoid strenuous exercises for some days
Use anti-biotic but only if your doctor allows you to
Avoid touching the treated site so much
Recovery:
When the treatment is over, the doctor will observe you for a few minutes. He will check for any adverse reaction to the treatment, as well as observe your vital signs. And before you leave the doctor's office, he will provide you with a list of instructions to follow. It's important to note that immediately after the treatment, you'll see swelling, pain, and bruising in the treated site. This inflammation may take 48 hours to wear off. Your doctor may prescribe an oral or topical medication to help you relieve the pain.
Best Stretchmark Removal:
Laser stretch mark removal is considered as the best choice for people with white stretch marks. It is a safe, FDA approved, an amazing procedure involving minimal side-effects. Well, it is not a single treatment that produces significant change. For many patients, 4-6 sessions of laser Stretch Mark Removal in Islamabad, Rawalpindi & Pakistan are needed.
Book an Appointment:
Get rid of your stretch marks to make your skin healthier and smoother. We offer safe & effective stretch mark removal treatments at affordable rates so there is no better health center than ours. Book an appointment to discuss your concerns with our experts free of cost