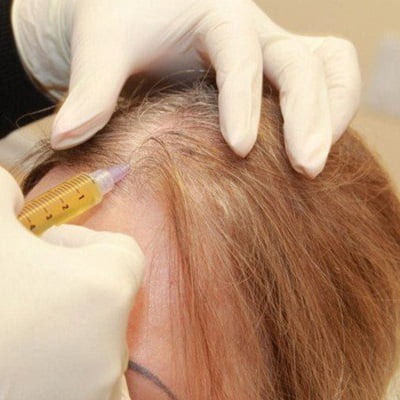 Nowadays, men and women are experiencing different kinds of hair loss issues. The percentage of hair problems is getting high in people because hair gets much dust and pollution all day, so the hair fall issue is rising. A convenient and advanced therapy that is performed for enhancing hair growth is known as PRP therapy. It is an affordable treatment option for both men and women. PRP is a pretty new approach performed in multiple sessions for hair growth. In this blog post, you will know all about therapy, results, PRP Cost in Rawalpindi, and other cost factors. Read more for further details!
What Is PRP Therapy?
According to SKN cosmetics, PRP is a non-invasive procedure that improves the growth of hair. It stands for Platelet-rich plasma, which is drawn by your own blood. As well as, it will help to support cell growth and contains proteins. The PRP therapy will treat damaged tissues and encourage new healthy cells. Many people don't want to undergo any surgical procedure; that is why they choose PRP that can help to regenerate the growth cycle of hair. For this therapy, you should consult your hair specialist, and he/she will examine the hair loss situation and recommend you according to suitability.
It's Working:
It is a simple and straightforward procedure that is performed in just a few steps. These are mentioned below:
The practitioner will draw out your blood from your arm and put it into the container.
The container will send to the centrifuge, where it will spin for 15 minutes. After that, the blood elements get separated, and the practitioner will extract plasma from it.
The injection will be filled with plasma, and it will be injected at the bald region or thin hair areas.
Therefore, it may require additional sessions to obtain the desired outcomes. It requires three therapies 4 to 6 weeks apart.
The Results:
The outcomes of the PRP injections are impressive and miraculous. This injectable process delivers effective and noticeable results. You will notice hair growth right after the four to six weeks, and the area will heal faster and grow more hair. The complete results you may see after 10 to 12 months because different patients obtained different results, and everyone's plasma is not exact. The practitioner will recommend you multiple session for the proper growth.
It is essential to choose the right dermatologist for your treatment and follow the aftercare instructions that your practitioner will prescribe. The sooner you arrive at this therapy, the better results you will obtain. It will be wrong if it is said that such kind of procedures is the ultimate solution to the problem of baldness.
The Benefits:
There are a lot of benefits of PRP treatment, and some of them are mentioned below:
It will slow down the hair fall.
The safest and effective therapy.
It will deliver long-lasting results.
Only minimal discomfort you may experience.
There is no recovery or downtime in it.
It will boost up your self-confidence.
The growth and volume of hair will improve.
The Cost of PRP:
Generally, the PRP Cost in Rawalpindi ranges between 13000 PKR to 20000 PKR. It depends on person to person because different people have different situations and have to deal with them according to their conditions. So, it is better to consult SKN cosmetics to get the exact idea of the cost according to your treatment.
Other Cost Factors:
After knowing the exact cost of the treatment, it is essential to know about some factors that can affect the price. Some of them are mentioned below with a few details:
The Expert Dermatologist Fee:
When you need to treat your sensitive areas, you will always prefer an experienced and expert practitioner for your treatment. You can't trust anyone for such delicate concerns. A factor that can affect your cost is choosing an expert practitioner for the procedure and will charge you according to their fee criteria. You can choose a practitioner by your choice in consultation sessions before the treatment.
Location and Reputation of The Clinic:
When you don't have a reputable clinic nearby you, you will search for it. It might be another city, and you have to travel for the clinic from a town to another town. This factor may affect your cost with travel expense. It is better to choose a reputable and well-known clinic.
Session Requirements:
It is a procedure that requires multiple sessions for accurate results. It depends on candidates that how much they need PRP sittings according to their hair loss conditions. At the same time, this factor may affect your cost to charge you for sessions.
Other Supporting Charges:
Last but not least, when you are considering hair restoration treatments, it may require you for regular checkups and medication as prescribed by your practitioner. This factor will affect the cost of the treatment.
Therefore, these are the expected cost factors that can affect your cost. It will discuss in the consultation session according to your requirements. Further, if you want to know more about cost-related details, then don't hesitate to contact our team; our expert team will guide you the best!
All Summed Up!
If you want to consider PRP therapy to improve your hair's growth at an affordable cost, feel free to consult SKN cosmetics. We will provide you the best therapy at reasonable prices, and you will be satisfied with the results.