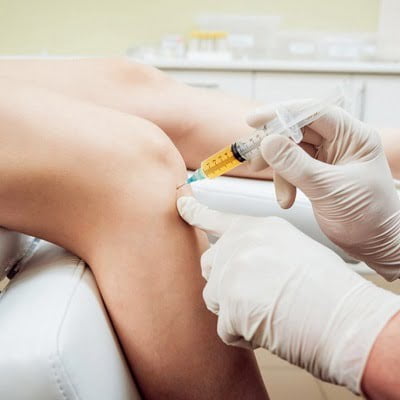 The platelets in your blood hold growth factors. Scientists believe that injecting PRP growth factors from your own blood into an injured area will help in repairing the by causing new cells to form. In this way, PRP in Islamabad could help reverse the tissue damage process in your body.
Evidence about using PRP Injections For Knees in Islamabad, Rawalpindi & Pakistan to treat knee osteoarthritis has not been confirmed yet and studies have produced contradictory results.
Pain levels: Compared with samples, PRP injections have considerably reduced pain.
Physical function: PRP treatment has significantly improved physical function.
Adverse effects: Some people have also experienced some adverse effects, but these were not significant compared to those which were produced by other types of injection.
Who Can Benefit from PRP?
PRP Injections For Knees in Islamabad, Rawalpindi & Pakistan is a new therapy, and experts are not recommending its use at this point in time. However, if you are considering PRP injections therapy for knee osteoarthritis (OA), then you must start by asking your doctor for their assistance. Talk to your doctor in detail before the start of PRP therapy and make sure that your health care provider is fully qualified to carry out this treatment.
Happens During PRP For Knees?
First, your doctor will extract a small amount of blood from your arm.
Then, he will put the blood sample into a centrifuge to segregate the components and obtain a concentrated suspension of platelets in plasma.
Next, the doctor will numb your knee area and inoculate the PRP into the joint space in the knee. He might use ultrasound in order to escort the injection.
After resting a while, you will be allowed to go home. You will be asked to bring someone with you to drive you back home after the procedure, as you may encounter slight pain and stiffness after the injection.
What Happens During Recovery?
After the procedure, your cosmetic surgeon provider will advise you to:
ice your knee for at least 20 minutes daily for two to three hours during the first three days
you might be prescribed a medication to manage discomfort
avoid medications like ibuprofen, since they may block the effect of PRP
get plenty of rest and avoid strenuous activities
You may need to use crutches for a few days to keep the weight off of your knee.
Follow your doctor's advice and must-have follow-up appointments.
What's the Outlook?
Platelet-rich plasma (PRP) is the essence of autologous blood growth factors.
PRP has been displayed to provide some symptomatic assistance in knee osteoarthritis.
At the moment, this intervention has been largely provided in hospital settings.
This therapy appears to have negligible adverse effects.
This therapy appears to be connected with improvements in patient outcomes.
Conclusion:
(Platelet-rich plasma) PRP Injections for Knees in Islamabad, Rawalpindi & Pakistan therapy are a simple, low-cost, and minimally invasive intervention that is feasible to deliver in primary care to treat osteoarthritis of the knee joint. Well-designed randomized and controlled trials are still required in order to measure outcomes, the durability of effect, and the cost-effectiveness of this treatment.