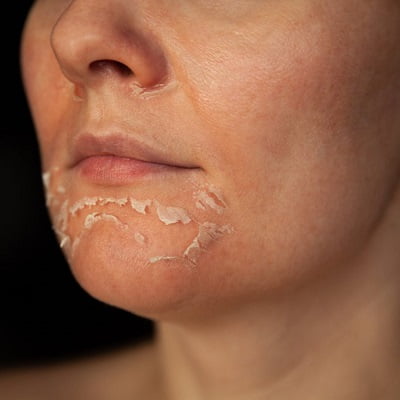 With its geneses in Spain, Cosmelan peel is the world's renowned professional depigmenting technique. The peel consists of a two-step process; the first step contains the application of a thick, mud-like mask. This mask has Azelaic Acid, Kojic Acid, Phytic Acid, Ascorbic Acid, Arbutine, and Titanium Dioxide. The mask should stay on the face for almost 6-10 hours, but the amount of time entirely depends on the type of your skin and the amount of hyperpigmentation is being treated.
The second step of Cosmelan peel in Islamabad, Rawalpindi, and Pakistan helps to preserve the results attained with the Cosmelan Peel while averting the appearance of new dark spots and areas of hyperpigmentation. This maintenance cream contains similar ingredients and should be used up to one year after a Cosmelan Peel procedure.
How Does Cosmelan Work?
Cosmelan peel intends to correct hyperpigmentation while regulating the production of unwanted melanin in the melanocytes. It drops the oxidative stress, which in turn reduces the production of melanin in order to prevent and control the development of new dark spots.
Cosmelan is unique in a way that it is a corrective as well as a preventive solution for instant and enduring results. When the mask is applied and left on the skin for the given amount of time, you may possibly see up to a 95% reduction in the pigmentation on the surface of the skin within 30 days. A persistent reduction can be seen with the daily application of Cosmelan 2.
Benefits of the Cosmelan Depigmentation Peel:
Reduces hyperpigmentation & dark spots.
Treats melasma very effectively.
Minimal discomfort.
Balances the skin's oil production.
Fast results.
Suitable & gentle for all skin types.
Minimal side effects.
Am I a Candidate for a Cosmelan Peel
Cosmelan peel in Islamabad, Rawalpindi, and Pakistan are perfect for those who are suffering a great deal from hyperpigmentation, melasma, post-inflammatory hyperpigmentation, dark spots from sun exposure, and freckles. The peel is inventive in a way that can be used by those who have a very light skin tone as well as a very dark skin tone.
Process for Getting a Cosmelan Peel:
Getting a Cosmelan Peel is fairly quick and painless. There is no extraordinary preparation required like many other peels that require the application of lotions, creams, and even bleaching agents before application.
The Cosmelan Two-Step Process:
Cosmelan Depigmentation Peel is a two-step process.
Part one is the application of a stimulating mask at SKN cosmetic surgery clinic
Part 1: The In-Clinic Mask:
Part one comprises the application of Cosmelan peel. At SKN the application of the mask is a very quick and fuss-free process.
 Your skin is cleansed
A thick layer of Cosmelan mask is applied to your skin.
The Mask might feel slightly stung upon application, but it will be stopped very quickly
Depending on the type of your skin, the mask must remain on your skin for about six to twelve hours.
You will be taught on when and how to remove the mask at home.
An after-care kit will be provided to you and you will be educated on how to use your at-home products
Part 2: The Home Care Regimen:
After the indicated time, the Cosmelan mask is removed with a mild cleanser.
Straightaway, the Mesoestetic Hydra-Vital Factor K is applied to the skin in order to provide comfort and look after the moisture.
Peeling generally initiates two to three days after applying the mask.
Cosmelan 2 cream should be applied twice daily for about two weeks.
After the first 14 days, you may apply Cosmelan 2 once daily but with the permission of your healthcare provider.
Expected Results from the Cosmelan Peel:
The fallouts of Cosmelan peel in Islamabad, Rawalpindi, and Pakistan can be seen within a few days. However, complete results are typically seen after 3 to 6 weeks of treatment. Within the first week, patients will experience skin blemishes disappearing, and a brighter skin complexion is on its way. After a couple of weeks, the skin will start to take on a shiny and improved glow. And 5 weeks after the procedure you can witness complete desired outcomes of Cosmelan peel.
Cosmelan Skincare Routine:
At SKN cosmetic surgery clinic Patients are advised to follow their at-home aftercare program in order to accomplish the desired results from the Cosmelan Peel so that these results can be preserved for many months to come.
The skin will be very sensitive in the first couple of weeks after your treatment. You should avoid prolonged sun exposure and you should wear a high SPF sunscreen to protect your skin.