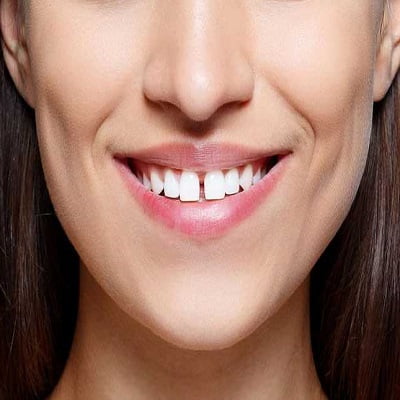 Make your smile beautiful and complete!
To have a gap between your teeth is a common thing in a few people but if you don't get them treated then it is your biggest problem. Certainly, when it comes to filling the unnecessary gap from the teeth, it may depend on several factors that what type of treatment a person requires. However, some common reasons for having gaps between the teeth are naturally, missing teeth, receding gums, or the size of the gap.
It can happen to any age of a person from child to adult because their teeth are in the developing phase.  There are specific dental treatments that are used to perform for teeth gapping in a reasonable cost. In this blog post, you will learn all about these treatments and more importantly, Teeth gap Filling Cost in Pakistan. So, keep reading!
How Do Dentists Fill The Fap in Teeth?
According to SKN cosmetics, the most demanding and effective treatments are mentioned below with some details:
Therefore, these are the most demanding dental treatments that are used to perform for filling the gap or space. Your surgeon will recommend you a suitable option according to your condition and concern.  So that is how we will overcome your problem and close the gaps.
The Benefits:
Generally, there are a lot of benefits if you choose such dental procedures for filling your teeth gap. Some common are mentioned below:
Your smile will be improved and enhanced.
The results will be effective and dramatic.
You will get long-lasting appearance of accurate teeth.
It will align your straightly and prevent cavities.
The oral health of the candidate will be improved.
Your speech will be enhanced – so you can talk clearly.
The Cost:
Teeth Gap Filling Cost in Pakistan Islamabad ranges between 3000 PKR to 10,000 PKR. Also, it depends on every individual person and treatment type. However, it is very important to understand that dental treatments are costly and different treatments offer different price rates. Moreover, always choose your board-certified dental surgeon and reputable clinic that offers reasonable costs. The costs of different treatments are mentioned below:
Composite Bonding ranges between 2000 PKR to 4000 PKR.
Dental Veneers range between 20,000 PKR to 40,000 PKR.
Braces range between 140,000 PKR to 180,000 PKR.
Dental Implants range between 10,000 PKR to 15000 PKR.
Dental Crowns range between 4000 PKR to 7000 PKR.
Cost Factors:
After knowing the cost of different dental treatments, there are several cost factors that can affect the actual price of the procedure. These are mentioned below with some details:
Professional Dentist's Fee:
It is necessary to choose a professional and experienced dental surgeon for your treatment because dental surgeries are complicated and only skillful practitioners can handle it. So, always choose a board-certified and experienced surgeon for your treatment. This factor can affect your cost according to the dentist's fee criteria.
Location and Reputation of the Clinic:
If you have a well-known clinic at your nearest location then it is convenient for you to approach. But if there is no clinic near to you then you may need to travel from one place to another place. The traveling expense will affect your cost. Moreover, always approach for the reputable and well-known clinic.
Treatment Type:
The most important factor to know is the treatment type. Different dental procedures are performed in different ways and costs. You will get a price idea in the consultation session and this factor will affect your cost according to treatment expenses and performance.
Other Supporting Charges:
Last but not least, some treatments require multiple sessions and medication expenses. This factor can affect the cost accordingly.
Therefore, these factors will be discussed in the consultation session, and further if you want to know more about cost-related queries then feel free to consult SKN cosmetics for more information and details. Our experts will guide you with the best.