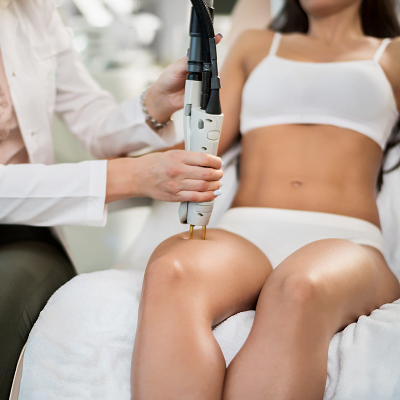 The trends in the feminism world are so abrupt and dynamic that nobody can predict them at all, however, there are certain things about which the whole class agrees and that is the removal of unwanted hairs, whether they have occupied your legs or fractional part of your chin. Often we ask our walking patients you don't have very much hairs then why are you going after hair removal treatments, their gentle reply is," in our busy schedule we are not always ready to shave early in the morning neither we want to give a gesture of being hairy women at all.
Anyways whatever our motivation is, one thing is for sure and that is an aggregated hate for unwanted hairs around our body. Though different techniques ranging from waxing to tweezing and shaving to bleaching are there, however, the rise of Laser hair Removal has gained significant importance among its seekers.
And now if you're on the go to opt. the laser as the ultimate source for your hair removal, one should rather take a look at a few of the myths that often accompany.
Myths about Laser Hair Removal
Gossips are somewhat that always accompanies us. However, some gossips really become myths which lateral need to be resolved. Let's find out associated myths related to Laser Hair Removal in Islamabad and learn how the gurus from dermatological world respond these
1-Laser Hair Removal is a Temporary Solution
To all beloved fellas! Who thinks that this treatment will not last long, with all due respect, so far this is the only treatment that has proved lender of last resort to all those whoever believed that unwanted hairs are their best companion and would live as long as the soul within the body.
2- Darker Skins Aren't Suitable for Laser Hair Removal
There is no skin type or tone that laser will not work on. Rather this is more about the hue of the hair rather than texture or complexion. Since there are different machines having different settings which can be altered according to the skin and can get the job done accordingly.
3- One must be Close- Shaven Before Getting Laser Hair Removal
Experts of Laser skincare witnessed that a large number of clients are shaved before visiting the clinic. However, this entirely depends. It is recommended to let an expert do it for you so a dry shave experience will give you real comfort.
4- Laser Hair Removal exposes you to Radiation
There's a mutual consensus among skin specialists that machines used in Laser Hair Removal are of no harm at all, and that these such machines don't produce any kind of radiation at all.
5- Only one Long session can get you rid of from unwanted hairs
Since hairs have different life cycles and will keep on growing in different time frames so it is almost impossible to target all unwanted hairs in one go. The only possible mechanism is to let all hairs grown altogether and then proceed for the removal session.
6- Laser Hair Removal Gives Birth to More Hairs
If this was the case then medical science would have found some cure for the baldness. Having such a myth is as fallacious as the stories of DC Comics that have no real-life exists at all.
I want to Know More. What Do I Do Then
Being one of the beloved Laser Hair Removal Expert in Islamabad, we do understand the anxiousness that comes through unwanted hairs and associated myths related to it. However the least we can do for you is to give a free consultation about your concerns. If you are all set to know more, we would ask to get some time, fill out an online form and submit it. Within no time one of our experts will be there to help you all about.