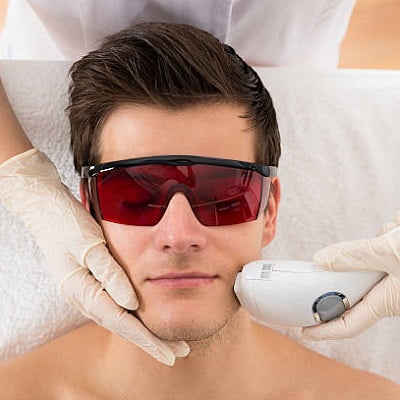 The desire to have flawless, radiant, and smooth skin is not limited to only women. Men also want perfect and unmarked skin complexion. The presence of unwanted hair does not make it happen, and it annoys them. Though there have been several hair removal methods. Laser hair removal in Islamabad is the best solution against undesired body hairs.
Laser Hair Removal: Overview
The innovation in the field of aesthetics has provided us with numerous priceless treatments that offer multifaceted advantages. The use of laser technology in the aesthetic field has also become a common practice worldwide. It is being used in a number of treatments, such as to remove undesired hair from different areas of the body. Basically, this is the use of concentrated beams of light to destroy targeted hair follicles and improve the skin's texture and complexion.
How Does It Work?
SKN Cosmetic promotes custom-made and personalized treatments. At our clinic, we hold a consultation session before the treatment to find out a patient's concerns and specific objectives, evaluate and deliver a perfectly aligned treatment. 
Laser hair removal is a targeted treatment that produces precise results. A device is used to emit concentrated beams of light. Melanin pigment in hair follicles is prone to absorb light that converts into heat later on. This heat destroys hair follicles, and frequent treatments also reduce the ability of follicles to grow again.
Top 3 Reasons To Consider Laser Hair Removal For Men:
This is the best procedure to get rid of undesired hair for men and is also deemed a fine replacement for traditional hair removal methods mainly because of the following reasons.
Better Than Waxing and Shaving
Waxing and shaving can remove unwanted hair from different body areas, but their results are not enduring. These procedures are to be repeated again and again to keep the skin free of undesired hairs. So, these treatments consume time and money on a regular basis. On the other hand, laser hair removal seems costlier, but it offers long-lasting results, and few treatments eliminate the need for regular waxing and shaving.
Time and Money-Saving Treatment
You might consider laser treatment costlier than others, but in actuality it is not. This is a one-time investment. After getting a series of required sessions, you get a sigh of relief for a longer period. It means you do not have to spend your time and money to address unwanted hair habitually.
Improve Skin Texture
The use of lasers also addresses other skin issues, such as acne scars, starch marks and pigmentation. Furthermore, it also promotes collagen production in the body that adds elasticity to the skin and also makes the skin appear more bright, smoother and attractive. Furthermore, laser technology offers precise and quick results and does not harm neighboring tissues.
If you are fed up with traditional hair treatments and looking for a permanent solution to get a smoother and brighter skin complexion. Laser hair removal is your solution because it removes targeted hair and also gradually reduces its regrowth ability.
How Much Is The Cost Of This Procedure?
Laser hair removal costs in Islamabad normally range from PKR 8000 to PKR 35,000. The cost may alter because of the number of sessions you are going to take based on your specific requirements, the skin area to be treated, the clinic's location and the expertise of a practitioner.
The Bottom Line:
Laser Hair Removal in Islamabad involves the use of concentrated beams of light to remove targeted hair follicles from different areas of the skin. Men should consider this treatment if they seek an enduring and precise treatment. This technique eliminates the need for waxing and shaving and also provides precise and desired results. Furthermore, this treatment also improves the skin's texture and complexion by treating skin imperfections such as pigmentation and scars and fostering collagen production.
Schedule your appointment at SKN Cosmetics Islamabad to explore the true beauty of your skin and unleash the inner glow and smoothness of your skin's texture and complexion. Additionally, we also offer customized treatment. Visit our clinic and get a consultation session to make an informed decision. 
FAQs
Why should men get laser hair removal in Islamabad?
Laser hair removal offers precise and targeted results. Furthermore, the results of this treatment are long-lasting and it also makes the skin smoother and attractive.
Is laser hair removal good for men?
Yes, there is no issue with getting laser hair removal to treat undesired hair. This is the most effective and durable treatment that offers long-lasting results
What are the benefits of laser hair removal for men?
Offers precise and quick results

Deals with targeted hair

Provides long-lasting results

Improve the texture and complexion