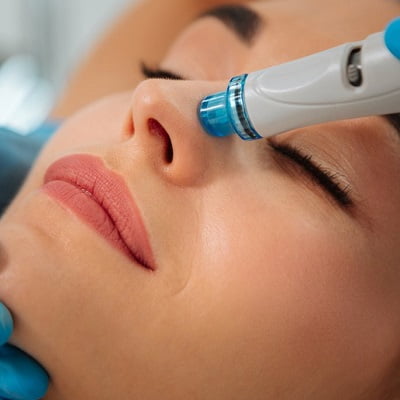 Hydrafacial in Islamabad realizes your dream of a flawless complexion and makes your skin smooth, glowing and youthful. Events and special occasions are the times when the pursuit of becoming a cool and charming individual surges. Maintaining smooth, youthful, glowing skin seems imperative as we celebrate Eid-ul-Adha, arrange parties, and join family gatherings. This Eid, we have come up with an excellent idea to rejuvenate the charm of your skin and make this beautiful event unforgettable for you.
Hydrafacial in Islamabad:
Hydrafacial is a non-invasive skin resurfacing treatment. This skin care procedure improves the appearance of the skin and makes it healthier. It involves cleansing, exfoliation, extraction, hydration and protection from antioxidants. This procedure generally removes impurities in the skin and adds a moisturising serum to beautify the skin.
Let's Understand the Steps of Hydrafacial in Islamabad
This skin brightness technique offers lasting results based on several steps. At the start, the treated site is cleaned, and any type of impurity, such as dirt and oil, is removed from the skin. Following this, exfoliation is done. It means dead skin cells are extracted from the skin to eliminate their impact. After that, a chemical solution is used gently on the skin to wash off the debris. After applying the chemical peel, impurities such as blackheads, whiteheads and debris are extracted with the help of vacuum suction. The process of hydration and infusion comes now. A specific custom-made serum is applied to the skin to prevent hydration and address issues such as wrinkles or hyperpigmentation. Lastly, skin care products like moisturizers, sunscreen, etc., are used to augment the results.
Benefits of Hydrafacial:
Hydrafacial in Islamabad extends countless benefits that we must pay attention to this procedure, especially on special occasions such as Eid-ul-Adha.
Immediate and Lasting Results
The most notable benefit is its immediate results. It does not let you wait to observe results as its results are visible right after the treatment. Additionally, its results are long-lasting. It means you can restore the glow of your skin straight away without fear of losing this charm after a short time. Hydrafacial in Islamabad offers immediate and lasting results.
Suitable for Everyone
Our skins are not alike. Some people are more sensitive than others, and so is their skin. It may confuse you whether this treatment is suitable for you or not. Don't worry about that because hydrafacial in Islamabad is suitable for all skin types—even people with sensitive skin experience this procedure's effectiveness.
Non-Invasive Procedure and Zero Downtime
This procedure is non-invasive as it does not include incisions, making it smooth, comfortable and gentle. Everyone can experience this gentle procedure and get desired outcomes. Additionally, the downtime of this procedure is almost zero. It does not require healing time and allows a person to resume activities right after the procedure.
Reduces the Appearance of Pores
This process removes debris and dirt from the pores, making them visible and small. It means it reduces the impacts of these pores and improves the skin texture and complexion.
Side Effects of Hydrafacial Procedure
Unlike other skin rejuvenation procedures, this procedure has no significant side effects. You may feel a bit of pressure during the procedure but do not even observe the redness or swelling during or after the procedure.
A Customised Treatment
It is a customized skin care treatment that allows professionals to consider the skin requirement of each individual while performing this procedure. During this non-invasive skin rejuvenation procedure, specific areas can be targeted, such as acne, hyperpigmentation, and uneven skin tone.
The Cost of Hydrafacial in Islamabad:
Considering ordinary days, its price usually ranges from PKR 7,000 to PKR 25,000. But its cost may go up on the occasion of Eid-ul-Adha, and besides that, several factors can be counted while analyzing the cost of hydrafacial.
Hydrafacial Aftercare:
Each session of this non-invasive procedure takes even less than an hour. Further, its downtime is zero as it does not cause any significant harm, and you can return to your normal life right after the procedure. But it does not mean you do not need to follow any suggestions.
After undergoing hydrafacial, do not apply any harsh chemicals on the skin
To keep your skin hydrated, apply a moisturizer while going to the bed
Avoid using brushes or other exfoliants for a few days after this treatment
Further, consult with your professional if you feel any unusual outcome.
The Bottom Line:
As Eid-ul-Adha approaches, treating the skin proactively to enjoy the event properly is mandatory. Hydrafacial can help you recreate the freshness of your skin and add to your glamour. This procedure is non-invasive, painless and suitable for everyone.
SKN Cosmetics Islamabad aims to add to your beauty on this Eid. Get yourself treated with hydrafacial at SKN Cosmetics Islamabad and make this Eid unforgettable because your satisfaction and perfection make you feel important.