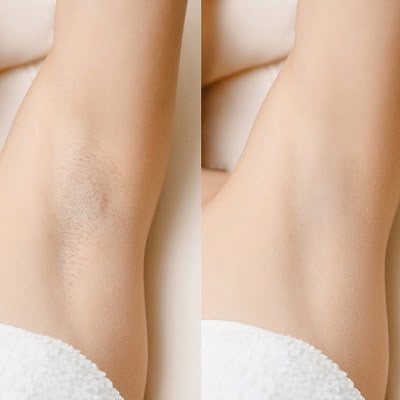 Eradicating unwelcoming hair is an essential part of a beauty regimen. Many males and females opt for waxing and shaving to get rid of their body hair but they find these options time consuming and painful. Such people can undergo Laser Hair removal to have their hair removed permanently.
Laser hair removal makes use of different types of lasers to target excessive and unwelcoming hair present on the body. People become more confident and beautiful after this treatment. This is the most used method for removing body hair in these times because it is a safe and inexpensive cosmetic treatment.
Underarm Laser Hair Removal:
Improve the appearance of your underarms by having your armpit hair removed with the laser. The laser works best for people with coarse hair and white skin complexions. It produces the best results by subtly modifying the skin appearance. Moreover, the procedure takes only an hour to complete and no recovery time is linked to it so the treatment is surely worth getting it.
Laser hair removal works by destroying the unwanted hair follicles with a high-powered beam. It permanently removes excess hair follicles while leaving the surrounding area unharmed. The treatment beautifully changes the look thus people start feeling confident about their appearance after getting this procedure.
For permanent hair reduction, four to six sessions are required and in each session, you will see about a 20% reduction in your hair growth.
Underarm Laser Hair Removal Cost:
Now, you don't need to spend thousands of Rupees to achieve hair-free and smooth skin. Undergo our reasonably priced laser hair removal treatment to get a clear, smooth skin that you've always wanted.
The costs of Underarm Laser Hair Removal in Islamabad Pakistan ranges between 3,000 to 20,000 PKR depending upon the number of sessions required, the quality of the clinic, the practitioner who is doing your treatment, and the size of the area being treated. Let's discuss this issue in more detail.
The Number of Sessions:
It is not typically a single session that delivers long-term hair reduction so the overall price of the treatment is greatly affected by the number of sessions performed.
Based on the goals of the treatment, the doctor will decide how many sessions do your skin needs
Professional's Fee:
Well-trained practitioners generally charge more so if you are choosing such a practitioner then you should expect to pay a lot of money for your Underarm Laser Hair Removal.
The Reputation of the Clinic:
A hospital's reputation plays an important role in defining the total cost. Reputed hospitals charge higher prices to customers and I think there is nothing wrong with it because somehow their treatments are better than other ones. Moreover, such hospitals never compromise on the quality of the treatment and safety of patients.
Patient's Skin Tone:
It is more difficult to treat dark skin tones than light ones. The reason for this is that the laser beam cannot clearly differentiate hair from such skin tones. Well, these people can opt for Nd: Yag laser to get rid of their armpit hair. This option is effective but expensive as well.
Conclusion:
The cost of Underarm Laser Hair Removal in Islamabad Pakistan is different for each individual. But I can proudly announce that even if you don't have thousands of Rupees, still you can opt for this treatment. We will customize the treatment plan based on your budget and goals. So, hurry up! Book your consultation now.
Who Should Perform this Treatment?
Like all other cosmetic procedures, laser hair removal should be done by qualified and well-trained professionals. So, before undergoing this treatment, you should make sure that the nursing practitioner who is going to do your treatment is extensively trained.
Best Laser Hair Removal Clinic in Pakistan:
At SKN Clinic, only certified practitioners perform Laser Hair Removal so I assure you will receive the best results with us.
Book an appointment:
Find the exact cost of Underarm Laser Hair Removal in Pakistan, by getting in touch with our team. Fill the form or call us