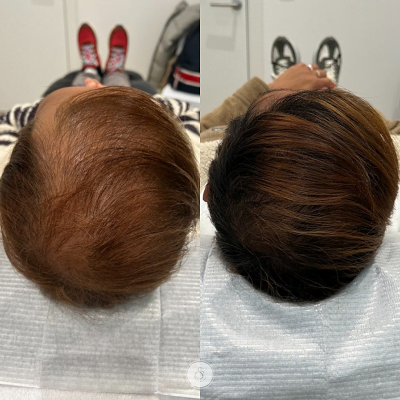 A fuller hair head excites everyone and maintains the confidence and self-esteem of an individual. But heat, pollution, and chemicals damage our hair and lead to hair thinning or hair loss. Hair fillers in Islamabad add volume, fullness, and the element of thickness, restoring the charm of original and fuller hair heads. Many people wonder whether this treatment is suitable or not. This blog will address this concern.
Hair Filler: Overview
These fillers are cosmetic treatments designed to address hair loss or baldness. These fillers involve injecting substances such as hyaluronic acid to add volume and density to hair. Basically, this is a non-surgical procedure that is performed to accomplish your obsession for fuller and denser hair.
Hair Fillers in Islamabad: Top Benefits
This is a non-surgical solution to add volume and fullness to hair
These fillers offer natural-looking hair
It is a customized treatment that adds volume based on personal requirements
The results of this treatment are temporary, and this procedure is deemed feasible, especially if you are looking for a permanent treatment
Its non-surgical nature limits its downtime and healing process
The sensation of fuller and denser hair created by this treatment boosts your confidence
Hair Fillers Procedure:
At SKN Cosmetics Islamabad, professionals analyze the skin condition and assess the suitability of the treatment based on specific requirements and the health conditions of a patient. Furthermore, this initial assessment also helps them determine the scope of the treatment. Like other procedures, anesthesia is also used in this procedure to manage pain and discomfort. Then our professional injects a dermal filler with the help of a fine needle into the specific sites of the scalp. Following that, the surgeon gently rubs the area to distribute the fillers evenly.
Is Hair Fillers Worth The Hype?
Without a doubt, this is a temporary solution, but given its benefits and feasibility, we can state that hair fillers in Islamabad are worth the hype. This non-surgical treatment improves the appearance of hair thickness, volume, and density because they contain hyaluronic acid, which has multifaceted advantages for hair.
Who Is A Suitable Candidate?
If you experiencing hair loss or hair thinning
If you are looking for a non-surgical treatment
If you are seeking a solution for a temporary period
If you have realistic expectations
If you have consulted with a professional
This temporary but non-surgical treatment adds volume to your hair and makes it appear denser. You are a suitable candidate if you fulfill the above-mentioned criteria.
Do Hair Fillers Damage Hair?
Hair fillers in Islamabad are generally safe and do not cause any damage to hair or scalp. You are suggested to seek professional help if you are seeking this cosmetic treatment because proper application of this procedure is vital to produce desired results and avoid side effects. On the contrary, improper or excessive application can cause complications.
How Much Do Hair Fillers Cost in Islamabad?
The cost of this procedure depends on several factors, including the type and amount of filler used, the number of sessions, the location of the clinic, and the expertise of a professional.  Based on these factors, the overall cost of this treatment varies from clinic to clinic. Generally, the cost of this treatment remains between PKR 12,000 to 25,000 PKR.
Aftercare Instructions:
Refrain from touching or rubbing the treated area to prevent infection and irritation
Avoid harsh scrubbing and also use gentle shampoos
Refrain from exposing your treated site to the sun
Drink plenty of water and keep yourself hydrated
Use mild hair care products and avoid using harsh products
Keep in touch with your doctor for a professional evaluation
The Bottom Line:
Hair fillers in Islamabad address hair thinning and add volume and density to the hair, leading to a redefined and rejuvenated look; this surgical procedure offers temporary results and is deemed a good choice if you are looking for a temporary solution. Hair fillers are worth the hype because these fillers help you appear youthful by improving the density and volume of your hair. Furthermore, this treatment has no side effects and is feasible for everyone.
SKN Cosmetics Islamabad is a renowned clinic that deals with all sorts of cosmetics and aesthetics concerns. If you are bothered by hair thinning or hair loss and looking for a temporary solution, visit SKN Cosmetics Islamabad for a proper solution.