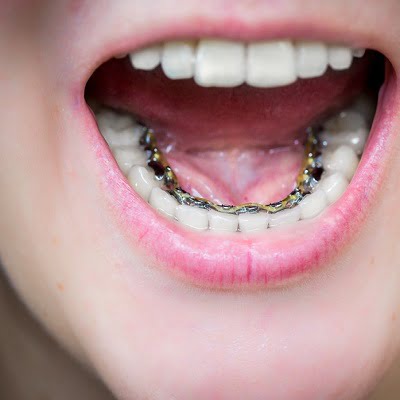 Bringing Teeth Together by Debunking Braces Myths
With the introduction of lingual braces, the era of bulky metal braces is over. For patients who care about their appearance, this approach is quickly becoming one of the more popular choices. Lingual braces in Islamabad are the most effective orthodontic treatment currently available. It actually combines the most recent technology with patients' sincere concerns. This is why people who care about their appearance and want straighter teeth but detest the look of having a mouth full of metal, prefer them. They are barely visible when you smile. As they are bonded to the lingual, or inside, the surface of the teeth, which is next to the tongue. This blog will explain to you the answer to Common Misconceptions About Lingual Brace.
Ideal Candidates for Lingual Braces:
The vast majority of people who have lingual braces are incredibly pleased with them. There are many reasons to think about lingual braces as a viable treatment option. They are invisible and have an added comfort element. Other benefits of lingual braces include: 
The identical length of time as traditional braces Invisibility increased confidence. 

No irritation to the lips or cheeks. 

Both arches are treated simultaneously.

They can be customized. 
Common Misconceptions About Lingual Braces:
Following are the common misconceptions about lingual braces in Islamabad:
Braces are Only for Aesthetic Purposes:
In addition to crowding, spacing, and forward-facing, thumb sucking, and teeth grinding are just a few of the bad habits that braces can help you stop doing. Braces can be beneficial in situations involving early extraction of milk teeth, retained milk teeth, or missing teeth. They contribute to the development of the patient's psychosocial well-being, food chewing, salivation, and speech. 
They are capable of fixing more complex issues.
The lingual braces are designed with the patient's comfort in mind, and each bracket is individually made to fit the mouth perfectly. There is a brief period of adjustment following the lingual braces' installation. The tongue will, nevertheless, gradually get used to the orthodontic device. In the majority of cases, lingual braces can be used to straighten teeth and correct bites. They can even be used in the more complex cases that other clear aligners are unable to treat. Lingual braces are custom-made to treat almost all oral disorders.
Braces are So Noticeable!
The top teeth can be affected by the traditional wire and bracket braces. But over the past 20 years, many contemporary orthodontic treatments have virtually disappeared. They have been replaced by lingual braces and Invisalign clear aligners (braces on the inside of teeth).
Braces are Only for Kids:
It's never too late to get the smile you've always wanted. The wearing of braces is not age-related.  Without putting your life on hold, cosmetic orthodontics is the ideal way to get the smile you've always wanted. For adults, in particular, there are many options available for discrete orthodontic procedures. 
Braces Must Hurt; if They Don't, They're Not Doing Their Job: 
It is utterly false to believe that "the tighter the better." As your teeth and gums get used to your lingual braces, you may undoubtedly feel some discomfort. Though you will eventually forget they are there as your treatment progresses because your mouth will adapt. 
Braces Will Inhibit Your Ability to Play Certain Instruments:
It's possible that this is one of the most widespread myths about orthodontic care, but it shouldn't influence your choice to have braces for yourself or your child. Your child can continue participating in sports safely with the aid of an affordable orthodontic mouthguard.
Braces Straighten Your Teeth Forever:
This might not actually be a myth, just wishful thinking. Braces are a great way to improve your bite and straighten your teeth, but over time, your teeth will continue to move. It's crucial to give your mouth enough time to adjust to its support after your braces are taken off. Your teeth may begin shifting as soon as a few days after treatment, and this can continue for up to a year.
Metal Braces are the Only Option:
There are options and combinations to suit every patient's specific needs and desired outcomes for their smile. Our lingual braces perform the same function as traditional metal braces. They are robust, translucent, and almost undetectable. Lingual braces are another more covert option. Because they are positioned on the teeth's tongue side, they are completely hidden when you smile. And finally, one of the most well-liked options at SKN Cosmetic Surgery Islamabad is lingual braces. 
Braces Will Give Me a Lisp:
Due to their proximity to the tongue, lingual (inside) braces can be difficult to wear at first and may temporarily affect speech. Rest assured, though, that all other treatments (metal and ceramic braces, as well as transparent aligners like Invisalign®), won't impair your ability to speak.
Book Your Appointment:
Have you heard any other braces-related myths about orthodontics? There are many, but rest easy knowing that having braces is the best way to have straighter, healthier teeth and a radiant smile! Book Your Consultation at SKN Cosmetic Surgery clinic Islamabad and get perfectly straight teeth.