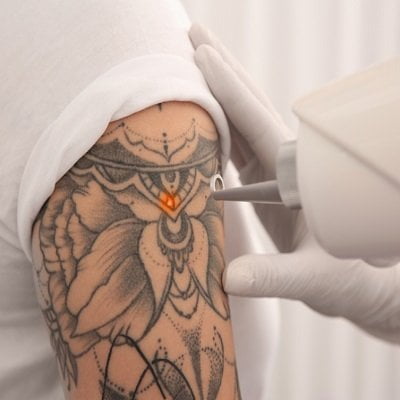 Many people get a tattoo on their body in the desire of having an attractive appearance. But sometimes it looks awkward and you need to remove it. If you are not happy with your tattoo then don't worry, there is an advanced technique that will remove your tattoo. The technique is known as Laser therapy significantly diminishes the unwanted tattoo without any pain.
However, in this blog post, you will learn all about How Laser Tattoo Removal Works as well as its benefits, results, cost etc. So, keep reading!
What is Laser Tattoo Removal Treatment?
Laser treatment is performed for several purposes but one of the demanding laser treatments is for tattoo removal. It will perform for removing an unwanted and wrong picture of a tattoo so that is how you will get clear skin for a new tattoo or smooth skin. Commonly, it requires 6 to 10 sessions.
Few colors of tattoos are easy to remove but some dark pigmentation requires multiple sessions for complete removal. You should understand that laser therapy doesn't remove completely as it will lighten the pigmentation that no one can notice.
How Does It Work?
According to SKN Cosmetics, the practitioner will move the laser beam over the tattooed area on the skin. It breaks the pigment color by performing a high-intensity light. It will lighten the colors of the tattoo and with time, you will need multiple sessions for making it less noticeable. After the first laser session, the next session will perform after 5 to 8 weeks for getting amazing results.
After the laser therapy, you need to follow the aftercare instructions for making the treated area free of side effects. Care tips like do not take blood thinners as they slow down the recovery, keep the area clean and dry and do not go out in direct sunlight.
What to Expect in Results?
After getting a laser for tattoo removal, you will get effective and satisfying results after every session. The results may vary on the type of tattoo pigmentation and session requirements. That is how you will get permanent and immediate results. However, it is very important to choose expert and professional practitioners who will perform accurately and perfectly. Moreover, it is necessary to take good care of your treated area otherwise it will be complicated for you.
Pros & Cons of Laser:
Every treatment has its own advantages and disadvantages. The laser treatments have a lot of benefits for that one who choose this treatment. As well, the treatments have a few complications that are easy to experience if you follow the instructions. So, the pros and cons are mentioned below:
Pros: 
It is completely painless.
Provide successful results.
Cost-efficient treatment.
It will not disturb the surrounding tissues.
High-quality laser techniques.
Free of major side effects and complications.
Improve the quality of life.
Cons:
Skin gets redness and irritation.
Minor risk of infection.
More sessions will cost you more.
Skin color may change.
It is worst if not performed by an expert.
Is It a Painful Treatment?
No, it is not painful if you get anesthesia or numbing cream before the treatment. Many people can tolerate the pinching pain but some of them hesitate due to pain. So, if you want to make this treatment painless then the practitioner will recommend you to get anesthesia before the laser. Also, it depends on the body part as if you have tattooed on sensitive areas then it may feel pain otherwise, it is not a painful procedure. The practitioner will apply the cooling gel after the procedure and you can use ice packs for soothing the area.
After knowing about How Laser Tattoo Removal Works, you should know that removing an unwanted tattoo from your skin is far more important than fear about the pain. Yes! Of course, it is the safest treatment option and you should choose this without thinking about another option.
Laser Tattoo Removal Cost at SKN Cosmetics:
Generally, the average cost of Laser tattoo removal in Islamabad ranges between 5,000 PKR to 30,000 PKR. Also, there are a few factors that can affect your cost, such as:
Expert practitioner's fee.
Location of the clinic.
The reputation of the clinic.
The number of sessions.
Tattoo size and body area.
Anesthesia fee (if required).
Other additional charges.
Furthermore, if you want to know more about cost-related information then feel free to contact us or visit our clinic anytime. 
The Bottom Line!
The laser for tattoo removal is an effective, safest and amazing treatment option that provides long-lasting results without experiencing major complications. However, the procedure will take 30 to 40 minutes for the removal of the tattoo otherwise it depends on the size of the tattoo. Moreover, if you want to remove your unwanted tattoo then feel free to consult SKN cosmetics for satisfying services.