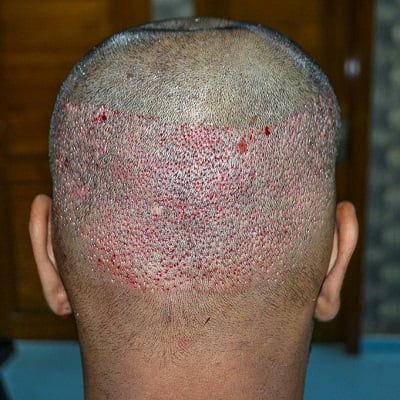 For a successful hair transplant, surgery doesn't end here; you have to take care of and follow your practitioner's instructions. But before the hair restoration treatment, many people are concerned about the procedure and results. They frequently ask "How many grafts survive after a hair transplant?" 
In this blog post, we are going to discuss several things related to hair transplants and what to do after the transplantation. So, keep your focus on details and read the following facts about it.
To Know About Hair Transplant:
A surgical procedure that is used to perform implanting hair follicles is known as a hair transplant. There are two types of methods, FUE – extracting and implanting individual hair follicles and FUT – extracting the whole strip and implanting it as it is. FUE is more advanced and demanding as compared to FUT.
It will be performed under local anesthesia as a practitioner will extract healthy hair follicles from the back side of the head and implant them as needed. After the surgery, it may require 3 to 4 months for recovery, but once it has been done, you will notice the natural growth.
This hair restoration method is safe for those who are above 18 age, are experiencing male pattern baldness, and are healthy mentally and physically. The patient may experience minor side effects like swelling, irritation, and discomfort, but these are will appear only in the initial days. They will subside sooner.
How Many Grafts Can Be Transplanted?
According to skn cosmetic, the average range of hair graft transplanting is from 1500 to 5000. It depends on how many grafts a candidate requires for full coverage. Also, when the hair grafts are more, the surgery is divided into two sessions because we can't take the risk of implanting too many grafts at the same time due to the patient's condition.
So, the practitioner will examine your baldness condition to know how many grafts do you need and recommend a suitable number of grafts for a single session after checking your medical history.
The Final Results:
After getting the surgery, the healing process may take 4 to 5 months. Once the treated area is healed properly, hair growth will start. The candidate will get long-lasting, effective results and desirable natural hair growth.
Conversely, the surgeon's performance plays a major role in successful results. Therefore, it is necessary to choose an experienced one for such delicate surgery. Also, taking good care that proceeds you to desirable outcomes.
What Is The Percentage Of Grafts That Survive After?
In general, when people visit for an initial consultation session, they ask too many questions related to hair transplant surgery. For example, one of the most frequently requested facts is How many grafts survive after a hair transplant? 
According to our experts, the percentage of grafts that survive after the surgery is 90 to 95 percent. This basically means that hair that is transplanted from the donor area into the recipient area should stay in good condition. It is necessary to follow what your surgeon suggests or recommends to you. Otherwise, the survival rate can be decreased.
What To Do After Hair Transplanting Surgery?
As mentioned above, it is very important to take good care of your transplanted hair; otherwise, you may lose hope. The practitioner will recommend you some important aftercare instructions that will help you during your recovery and growth period. A few common instructions are listed below
Do not dye your hair or use any chemical product.
Avoid touching, rubbing, or scratching the treated area.
Use prescribed painkillers and antibiotics.
Don't go out in direct sunlight.
Maintain your healthy diet and keep yourself hydrated.
Avoid smoking tobacco or drinking alcohol.
Do not perform any physical activity that causes sweating.
In case of severe pain, inform your surgeon immediately.
The Bottom Line!
So, the average percentage of hair grafts surviving after the hair transplant is 95% maximum. It can be maintained by following important tips are care instructions. Therefore, if you want to know more about hair restoration surgery, then feel free to consult skn cosmetic. We are here to provide you with amazing services and detailed initial consulting sessions.