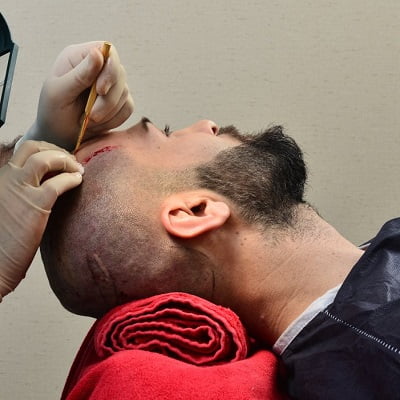 Hair loss is becoming a common problem for every man and woman. To treat the pattern baldness, it requires hair transplantation for getting permanent and desirable results.
When you are going to consider any treatment, your main concern would be its price. Obviously, everyone chooses the treatment which affordable and suitable. However, in this blog post, you will learn all about How much does a hair transplant cost in Pakistan? It includes its factors that can impact your cost. Continue reading for more helpful complete information!
An Overview – Hair Transplant:
A surgical procedure that is used to perform for implanting your own hair on the bald or patchy areas is known as hair transplantation. The surgeon will extract hair follicles from the healthy donor side usually from the backside of the scalp and implant them on recipient areas. The duration will be 4 to 7 hours as it depends on the client's condition. After that, it will take 3 to 4 months to recover properly and you will start to observe the natural growth of hair. However, it is suitable for all men and women.
Methods of Hair Transplantation:
According to SKN cosmetics, our surgeons use to perform transplantation with two main methods. FUT – also known as strip method where the strip of hair follicles will be extracted from the backside and implant on bald areas. FUE – is a follicular unit extraction where the surgeon will extract the grafts individually and implant them on patchy areas. Both techniques are effective and workable those are the best solution for improving the volume of the head, eyelashes, eyebrows and beard.
Success Rate & Results:
After getting the transplanted surgery, a candidate may need a recovery period where the treated area will heal and after that, you start to observe the growth of hair within 3 to 4 months. The results will be long-lasting, satisfying and effective. Choosing an experienced surgeon plays a major role in accurate outcomes otherwise, it can be performed wrong. Moreover, take good care during the healing process according to the surgeon's instructions.
How Much Does a Hair Transplant Cost?
The Average Cost of Hair Transplant in Islamabad ranges between 70,000 PKR to 400,000 PKR. It is necessary to understand that it is not a simple surgery that will perform at low prices. The cost will decide after consultation where your surgeon will ask you about your expectations and concerns. So, it is better to discuss the actual cost and your concerns. Moreover, keep in your mind that this procedure doesn't cover by any insurance company.
Cost Impacting Factors:
After knowing about "How much does a hair transplant cost in Pakistan?" you need to know about some factors that can impact your cost when the surgeon will consider your treatment according to your expectations and concerns. However, the common factors are:
The Experienced Surgeon:
It is not a simple surgery that can perform by anyone. Transplantation requires a lot of skills and experience for performing accurately. Choosing the expert surgeon for your treatment can affect the cost. Experience surgeons always charge according to their fee criteria.
Your Location:
Few areas are populated and high standards; your surgery's cost might be greater. The competition can impact the cost and if the clinic is near to your place then good. Otherwise, you may travel from one place to another and it will affect the cost with travelling expense.
The Reputation of the clinic:
Always choose a reputable and trustworthy clinic for the best performance. Such clinics always have a hygienic environment, expert surgeons, expert team and relaxing atmosphere. This factor may affect your cost.
The number of Hair Grafts:
The most important factor to consider is the hair transplantation always charges according to the number of hair grafts. The more grafts you need, the cost will increase. This factor will affect your cost and charge you as per hair grafts.
Other Additional Charges:
There are some additional charges like medication, antibiotic application, further checkups and anesthesia fees that can affect your cost. These are additional charges that will include accordingly.
The Bottom Line!
Therefore, if you want to improve the volume of hair from anywhere like head, eyelashes, eyebrows or beard then feel free to consult SKN Cosmetics for amazing treatment in a reasonable cost range.
Furthermore, to know more about cost-related queries then you can contact us or visit our clinic anytime. We are here to give you a memorable experience!