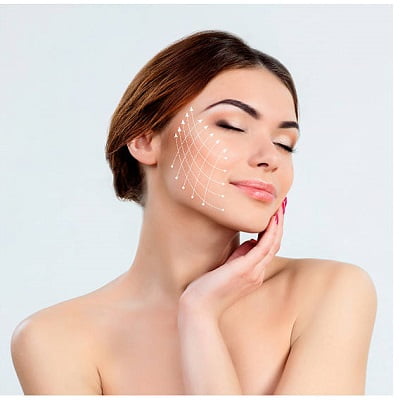 Anxious because of sagging or droopy skin? Seeking a solution to address this problem? So, we have got you covered! Try face thread in Islamabad to revitalise your appearance and defeat these ageing signs which have banished the elegance of your beauty.  Still worried? Visit SKN Cosmetics and let us regenerate the sense of pride in you and make you look more beautiful and attractive.
Let's Unravel The Idea Of Face Thread:
Poor nutrition, the ageing factor, weight loss, or lifestyle practices lead to sagging or droopy skin, dismantling facial contours and alignment and decreasing facial beauty. This is a minimally invasive procedure that addresses the sagging skin and lifts the targeted area. During this procedure, biocompatible materials made of poly-L-lactic acid or polydioxanone are inserted beneath the skin surface to lift the targeted area and create an impression of fullness and stretchiness.
Procedure: Face Lifting
A practitioner holds a consultation session to analyse the skin conditions and find specific concerns of an individual. After determining your suitability, the practitioner moves to the next step. The procedure begins with the administration of local anaesthesia or the application of a numbing cream. Following that, he will make tiny incisions and insert threads with the help of a thin needle. After inserting threads into the body, the healthcare provider makes some adjustments. 
Top Benefits Of Thread Lifting:
First of all, this is not a surgical procedure and only requires minimal incisions; people who avoid surgical treatments can consider this face-lifting technique

As soon as you get this procedure, you will start observing a significant change in your facial appearance

Not only does this procedure deal with sagging skin and create a lifting appearance, but it also fosters collagen production in the body, adding to the elasticity and glow of the skin

The downtime of this technique is also limited as compared to traditional approaches

The results of thread lifting last longer and also it only cause minimal scarring, attracting people who are worried about the visibility of scars

Improves skin texture, adds to the glow and brightness of the skin and makes the skin appear more rejuvenated
How Much Time Does Face Thread Take To Dissolve?
Thread lifts are of various types, such as PDO threads, PLLA, Silhouette and Barbed threads. They all differ in texture and quality. These factors, including quantity, determine their outcomes and the longevity of their results. The duration of their longevity ranges from 6 months to up to 2 years. It means the longevity of a thread's results largely relies on the type and quantity of a particular thread.
If we specifically talk about a PDO thread, its duration will be about 12 to 18 months. On the other hand, a PLLA thread may last from 12 to 24 months. So, this cosmetic technique allows you to lift the sagging areas of your skin and rejuvenate your appearance with a treatment having little downtime. 
Who Is A Suitable Candidate?
People who are distressed because of sagging skin

Individuals seeking a non-surgical solution to lift their sagging areas

If you're physically healthy and have the know-how of this procedure

People who have consulted with a professional and have realistic expectations

Individuals who are willing to adhere to post-operative measures

A candidate must have adequate skin elasticity 
The Bottom Line:
Face thread in Islamabad rejuvenates facial profile and augments the beauty of an individual's personality by addressing sagging skin and lifting the targeted area. The ageing factor and poor lifestyle lead to sagging skin and reduced gracefulness. This non-surgical procedure deals with this problem and improves the appearance of the skin, improving facial symmetry and profile.
Schedule your appointment at SKN Cosmetics Islamabad to make you look younger than your actual age and enhance the fascination and rejuvenation of your facial profile. Visit our clinic and let us reproduce a captivating and more appealing appearance!
FAQS:
Can facial threads break?
Normally, threads are strong and durable. It does not mean they are unbreakable. They can break if they are of low quality. Besides that, excessive pressure, rubbing, or any external trauma can lead to their breakage.
How many threads are for a face lift?
Individual requirements may vary significantly. Normally, 2-4 threads are deemed enough to lift the face. There is not a fixed standard. You can consult with a professional to find out your specific requirements. Furthermore, this is a non-surgical treatment, and it does not require much consideration.