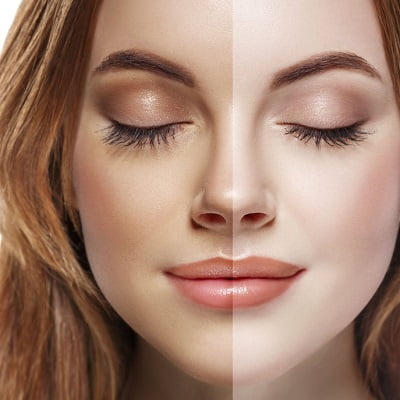 Winters are here and so are suntans. It is the season of sitting directly under the sun. This may lead to sun tanning especially if you live in tropical regions. Do you also think that you will have to live with these tans for the rest of your life? Then you are not alone. A lot of other people also think in the same manner. But now at SKN Cosmetic Surgery Clinic, we are providing services such as how to remove sun tan in Islamabad. Laser toning, chemical peeling and microdermabrasion are some of the methods to treat this condition. This blog will give you an insight into answering this question: How to Remove Sun Tan From the Face at Clinic in Islamabad? And many more.
What is Tanning?
An increase in the skin pigment melanin brought on by sun exposure is the process of tanning. The main cause of tanning is prolonged exposure to sunshine, although tanning can also happen through artificial skin tanning services, such as those provided by tanning lamps used in tanning beds. On exposed parts, primarily the face, arms, hands, legs, feet, back, and neck, the skin becomes darker.
Causes of Sun Tanning in Islamabad:
Following are the causes of sun tanning in Islamabad behind its most prevalent nature:
Sunlight consists of light of three wavelengths i.e. UV A, UV B, and UV C. Skin burning happens due to UV A while UV B causes photoaging. The UV A rays, when penetrated under the skin, cause the excess production of melanin. This darkens the color of the skin. All of this happens because of continuous oxidation. Collagen damage may also happen.
How to Remove Sun Tan From the Face or the Body?
We at SKN Cosmetic Surgery Clinic Islamabad employ the following methods to treat sun tans:
Platinum Facial:
A platinum facial in Islamabad is an efficient skin-lightening procedure in addition to being used to remove tans. The majority of the procedure involves peel masks, scrubbing, lymphatic massages, removing toxins, and purifying the skin. Every skin type can use it, and prices are typically reasonable.
Dermabrasion:
There is always a fear of becoming tanned lurking behind every missed adventure, abandoned trip, and postponed agenda. Now you can travel carefree since dermabrasion sun tan removal will enable you to remove the uppermost layer of your tan. In addition, it brightens skin, lessens blemishes, avoids blackheads, constricts pores, and smooths out skin texture.
You will need 4-6 sessions to get the desired results of dermabrasion in Islamabad, Pakistan.
Electroporation:
For easy drug or serum penetration to aid in reducing tanning, electroporation treatment is indicated. A little current is used to penetrate the medicines or serum. a microbiological method that involves putting an electrical field around cells to make the cell membrane more permeable, allowing serums to enter the cell.
Chemical peel:
Chemical peels in Islamabad help to quickly exfoliate and rejuvenate skin cells by removing layers of sun-tanned skin. They are excellent for getting rid of tanned skin. In order to cure dark and tanned skin, SKN offers peels with various intensities that remove the superficial, superfluous melanin-containing layers of dead skin.
You will need 4-6 sessions to get the desired results.
Q Switched YAG laser:
One of the most efficient ways to remove a tan is to have a laser treatment applied to you by a dermatologist. This treatment uses Q Switched YAG laser-equipped laser in Islamabad equipment to break down pigment and reduce tan, sun spots, and other skin disorders.
You will need 4-6 sessions to get the desired results.
Perfect Skin Care Routine for Sun Tan Removal:
You need to follow these skin protection tips to prevent yourself from suntanning.
Daily Exfoliation will help you scrub off the dead skin cells.
Cleansing shall be an essential part of your daily routine.
Moisturizing will hydrate your skin and restore the long-lost water balance all day.
Toning will shrink the pores and limit the rate at which they get clogged.
Apply sunscreen
Tan Removal Treatment Cost In Pakistan:
The cost of sun tan removal in Islamabad varies according to the size of the treatment area, the degree of tan, the reputation and location of the clinic, the doctor's experience, the chosen treatment method, and the technology employed.
Book Your Consultation:
Visit SKN Cosmetic Surgery Clinic Islamabad right away to have a dermatologist examine you if you want to get rid of your sun-tanned skin. Call us on our given number or fill out the form below to book your consultation with the best dermatologist in Islamabad.