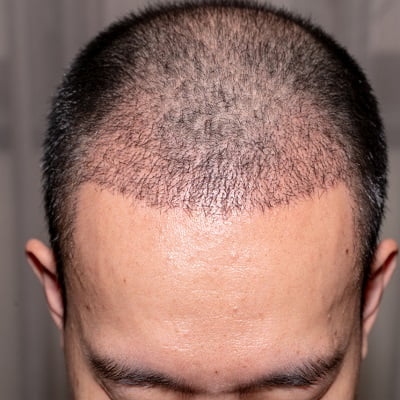 One of the most advanced methods – Follicular unit extraction, a minimally invasive hair replacement procedure available today, with a success rate of 92-98%. Many people who are considering hair transplantation are frequently concerned about the procedure's side effects and safety. Some of them often ask, Is FUE hair transplant dangerous? As you know that it is a surgical procedure that might have risks. But don't worry; there are some precautions patients can take to reduce the chances of FUE hair transplants. When patients know what to expect, they often feel less anxious.
In this blog post, you will learn about the procedure of FUE, its results, its safety, and effectiveness, how to reduce the chances of risks, etc., so take a moment and read the following details to lessen your misperception.
What Is FUE Hair Transplantation?
It is a surgical procedure where Individual hair follicles are extracted from the donor area of the scalp during surgery. These donor follicles are then put around the hairline's bald area and the scalp's crown. It differs from FUT in that no scalp strip is taken from the donor area, resulting in no large scar at the back of the scalp. Patients who undertake FUE often recover faster and with less difficulty than patients who do FUT. FUE, on the other hand, is more expensive than FUT.
Is It Safest Procedure?
Yes, it is an effective, safest, and most demanding hair transplant method. Many people consider this method because it will extract one by one follicle and implant them accurately.
Most importantly, if you take good care according to your surgeon's instructions, then you will not experience any complications or issues after the surgery. Otherwise, it is a surgical procedure, and every surgery has some minor side effects that are handled by doctors' prescriptions. So, make common sense as it is safe until you make it safe.
Why do People consider It Dangerous?
People who don't know about hair transplantation or have never consulted any hair surgeon frequently ask, Is FUE hair transplant dangerous? It could be wrong to consider anything dangerous without knowing a single fact about it. Here are a few important things that you must know about hair transplant and when it goes wrong and dangerous.
When you choose an unprofessional, inexperienced, and unqualified surgeon who doesn't know about anything of hair transplanting surgery, it will be dangerous for you to trust someone unknown. So always choose a board-certified and expert surgeon.
There are two types of people: one is the eligible candidate, and the second is not the right candidate for a hair transplant. It is necessary to consult initially with your surgeon and discuss all the facts and details. They will examine your condition and tell you whether it is suitable for you. Non-eligible candidates may experience a lot of complications and risks.
After the surgery, it is very important to take good care of your treated area according to your surgeon's instructions. People who don't take care and are careless during recovery, it can be dangerous and lead to major side effects. That is why surgeons always instruct their patients strictly to follow the aftercare instructions.
What To Do After The Hair Transplant?
If you want that your surgery doesn't go wrong or fail, then you need to follow a few aftercare instructions during the healing process. Some major and specific instructions are listed below
Change the bandage regularly in the first few days.
Keep the treated area dry and clean.
If you feel discomfort or irritation, then use ice packs.
Take prescribed medications such as painkillers and antibiotics.
Do not touch, rub or scratch the treated area.
Avoid smoking tobacco or drinking alcohol.
In case of severe pain or reaction, inform your surgeon immediately.
Do You Want To Know More?
So, after reading all the details about hair transplants and their safety, now you don't have any confusion. Still, if you feel like you didn't understand the facts, you can visit SKN cosmetic surgery anytime as our practitioners are waiting to answer your every query. We are here to make your experience memorable.