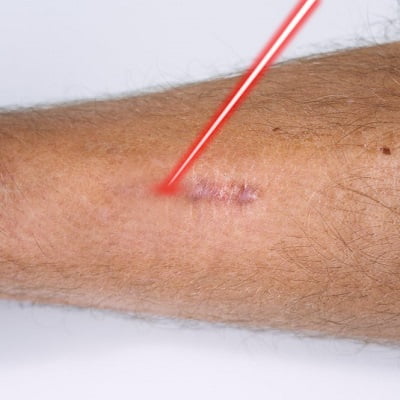 To have a scar or mark on any part of the body due to any injury, skin pigmentation, the reaction of medication, imbalance hormone or cause of injury is very common. Many people experience such scars and marks on the legs that might be harmless conditions but they can affect their self-image. However, if you want to get rid of unwanted scars then you need to consult the best aesthetic clinic that can give you satisfaction, obviously, skn cosmetics is one of them.
To know more about the safest and most effective Laser Treatment for Scars on Legs then read this blog post where everything is mentioned in detail. Continue reading!
What is laser therapy?
According to our clinic, laser treatment is used to perform for several skin conditions like acne scar removal, laser hair removal procedure and skin resurfacing treatment. It will target the affected area of the body and reduce the appearance of scars, marks and unwanted pigmentation on the skin. Also, it can be performed in multiple sessions for complete removal and give you spotless results.
Laser for scars on legs:
Generally, people get scars or marks on the legs dues to several reasons. If this condition appears for a long time ago and is not disappearing on its own then you may need a cosmetic treatment.
As mentioned above, the laser is one of the best solutions for removing scars, especially from the legs. It is a workable method that can reduce the appearance through the stimulation of new collagen. The laser light will target the upper layer of the skin and activate the new skin cells that will reduce the visibility of scars or marks. The numbing gel or anesthesia may be applied for making it painless.
What to expect in results:
After getting the treatment, you will get satisfying, amazing and long-lasting results. Also, the results may vary from person to person because everyone doesn't have the same condition. However, you need to follow the number of sessions and aftercare instructions to maintain the outcome long term. Moreover, always choose an experienced practitioner who performs your treatment accurately and perfectly.
Top benefits of laser treatment:
There are a lot of benefits for those clients who choose laser treatments for removing the scar on their legs. However, common benefits are mentioned below:
It will provide you with long-lasting results.
Completely painless and non-surgical treatment.
The effective and safest solution to any skin type.
No major side effects or risks in it.
Suitable option for both men and women.
Cost-effective procedure.
It will improve the skin tone and texture.
Boost up your quality of life.
Is it effective and safe?
Apparently, the Laser Treatment for Scars on Legs is one of the best solutions that is also an effective, painless and safest method for the skin. As the skin is a sensitive organ that can react to any treatment immediately. But laser will give you a smooth and soft skin layer and eliminate such scars or marks from your legs perfectly. On the other side, it might be affective for those candidates who are suffering from skin diseases and allergies. So, always consult with your dermatologist before considering any treatment for your skin.
A note from the SKN clinic!
Therefore, if you are experiencing unwanted and annoying scars or marks on your legs dues to any medical or life routine reasons then feel free to consult us. We are here to give you effective and safest treatments that will help to reduce the scars and marks from your legs and make your skin smooth and glowing. So, don't wait and appoint us today! We are here to give you a memorable experience.