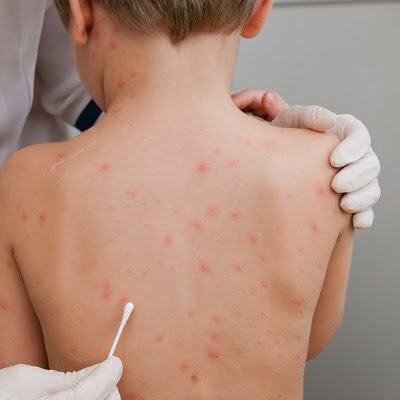 As children, we all dreaded getting chicken pox! We all ended up with it if one of our friends got it. Has chickenpox left any facial scars? The scars that the infection leaves behind might stay on your face for a very long time even if it only lasts a short while. If you want to get rid of these scars from your chickenpox, what should you do? Feel free to consult the SKN Cosmetic Clinic for Chicken Pox Scar Removal in Islamabad. 
In this blog post, you will learn about the best scar removal treatment for chickenpox including its working, outcomes and many more. So, take a moment and read the following details. 
Causes Of Chicken Pox Scars:
It is common to have a significant need to scratch the scars when chickenpox spreads over the body, but control yourself. Scarring is primarily brought on by this. Chicken pox scars typically appear for the reasons listed below.
The damaged area becomes infected when we scrape the wounds, which leaves a permanent scar.

When we scratch someone who has developed a mark from chicken pox Skin irritation is caused by chicken pox.
Best Treatments For Chicken Pox Scars: 
At SKN Cosmetic Clinic, there are multiple effective and workable treatments that are best to treat such types of scars. Some common are mentioned below
Creams For Removing Scars –

Various combinations of ingredients used in over-the-counter scar removal lotions are believed to help prevent scars or lessen their appearance. Despite the lack of clinical proof, many people believe them to be beneficial. Your choice of product will depend on how recent the scar is.

Microneedling –

It is a comparatively modern procedure that makes use of a tool like a rolling pin that is covered in tiny needles. Your dermatologist presses firmly on the tool as he spins it back and forth after injecting anaesthesia into your face. There may be a little bleeding. Microneedling causes the skin to look smoother and increases collagen production. It might be necessary to repeat the process numerous times. The results won't start to show for a few months.

Chemical peel – It is another method for renewing the skin's outer layer. Deep scars seem better after a high concentration of acid is applied to the skin, eliminating the outer layer. A mild peel can be quickly performed in a doctor's clinic.  a medium peel can also be performed, but the recovery could take a few weeks. Deep chemical peels are more serious medical treatments that frequently call for anesthesia and months of recovery.
Laser Resurfacing Therapy –

One of the most popular professional scar treatments is laser therapy. It can lighten scar color, enhance depressed chickenpox scars, and diminish the look of existing scars. Ablative and nonablative laser resurfacing are two of the different varieties available, with the former being slightly more intrusive than the others.
Are These Treatments Safe And Effective: 
If you want to get the safest and most effective treatment then it is necessary to discuss with an expert practitioner for the best Chicken Pox Scar Removal in Islamabad. They will examine your condition and recommend you the suitable one. 
When you get suitable treatment from an expert practitioner then you will get satisfying results and it will be safe for you. Otherwise, your treatment may get worst and unsuccessful. 
The Bottom Line!
Are you worried about and hoping to get rid of chicken pox scars? You may get rid of scars in the best way with the aid of the various invasive and non-invasive treatment options available at the SKN Cosmetic Clinic. 
Our expert makes sure you get the outcomes in a short amount of time with very little risk of negative consequences. By completing the form, you can make an appointment with us, and we'll get back to you right away.