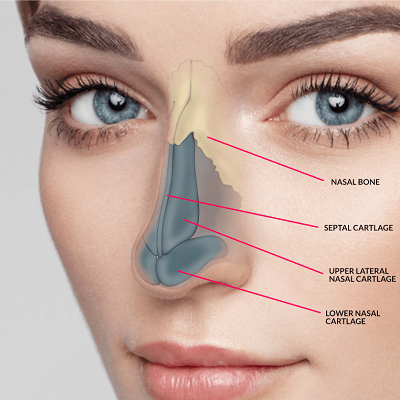 The nose is a central feature of the face that should look accurate in shape, size, and alignment. If you have an attractive nose, then it will make your face look perfect and attractive, but what if you don't have it due to genetics, injury, and other reasons? Don't lose your hope and confidence because SKN cosmetic offers effective and safest treatments for the nose at affordable prices. Furthermore, if you want to know more about Nose bone surgery cost in Pakistan, then read this blog post. We are going to discuss minimum to maximum ranges of its prices and other supporting cost factors. Read more!
About Nose Bone Surgery:
According to SKN cosmetics, nose bone surgery is also known as a Rhinoplasty in Islamabad treatment performed for treating different nose issues like shape, size, corrections, and breathing problems. It is a surgery that is performed under general anesthesia. Moreover, it will provide lifetime results, and you will enjoy the new look. It is important to choose an experienced surgeon for the treatment from a reputable clinic.
Expected Results:
The nose bone surgery will be done as a surgical procedure that will deliver lifetime results because nose bone surgery can be performed once in a life. You will get attractive and accurate shape, correction, and size in just one surgery. At the same time, the complete outcomes will be noticeable after 10 to 12 months. So, take good care of your treated nose in a healing process, and after passing it well, you will get the final look for a lifetime.
Benefits:
There are a lot of benefits when you go for a nose bone surgery, a few of them are mentioned below:
An effective surgical procedure.
Lifetime results providing treatment.
It will correct the shape, size, and alignment of the nose.
Your self-confidence will boost up.
The tip of the nose will be improved.
About Cost:
Generally, the Nose bone surgery cost in Pakistan ranges between 70,000 PKR to 300,000 PKR. The treatment is charged differently from person to person. So, it is better to consult your experienced surgeon to know the proper price range according to your concerns.
Cost Factors:
When you go for the consultation session, it is important to discuss all the concerns related to surgery and your problem. After getting an acceptable cost range of the surgery, the practitioner will discuss the cost factors affecting your cost. These are mentioned below with some details.
The Expert Surgeon Fee:
It is a delicate surgery where you can't trust an inexperienced practitioner who makes it worst. Better to choose a board-certified and expert practitioner in Rhinoplasty. The expert one will always recommend you a suitable solution for the problem. This factor can affect your cost when you select a highly professional practitioner for the surgery.
Location And Reputation of The Clinic:
There are many people around who do not have a reputable and well-known clinic near to them. When they need surgery through a reputable clinic, they travel from one place to another where the clinic is located. This factor may affect the cost by traveling expense.
The Method Was Chosen for Nose:
There are two methods in nose surgeries, the first is surgical Rhinoplasty, and another one is Liquid or Non-invasive Rhinoplasty. Then, which method is best for your practitioner will decide after examining the conditions of the nose. This factor may affect the cost of the treatment.
Other Supporting Charges:
In this factor, you may require checkup sessions, medication, and stays at the clinic. Whenever you feel any type of pain or infection after the surgery, you will require a checkup session with your practitioner. This factor will affect your cost according to your concerns.
All Summed Up!
After knowing the exact cost of nose bone surgery, including other factors, feel free to consult Cosmetic Surgery in Islamabad for safe, effective, and results-providing treatment. We will recommend you such amazing treatment at an affordable cost.