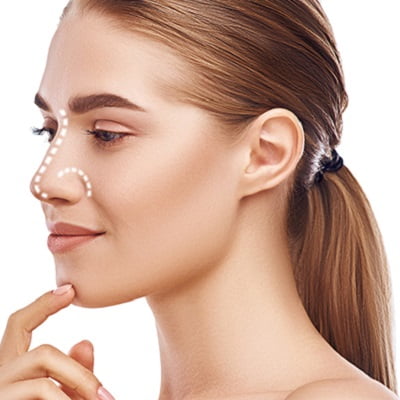 The nose is the most noticeable part of the face but a lot of people suffer from nasal deformities which results in breathing disorders. It can be due to some nose injury, birth defect, or without any visible reason. So are you also suffering from nasal disorders? Or you want to enhance your facial looks by altering your nose shape? No problem. You can get these concerns fixed by having Rhinoplasty Surgery in Islamabad.
However, it's a complex procedure that requires much care and Rhinoplasty Cost In Islamabad Pakistan is high due to its complexity but you can acquire this surgery at affordable rates by visiting our clinic.
Rhinoplasty is a cosmetic procedure that aims to alter the nose shape according to the requirements. It can be done for both reasons medical and cosmetic. People who're suffering from breathing problems or want to enrich their nose appearance can get Rhinoplasty to overcome such concerns. This surgery is also known as a Nose job which has two common types:
Open Rhinoplasty: it's the longer procedure involves internal incisions
Closed Rhinoplasty: It doesn't involve any incisions so no scar is left outside the nose
Results & Benefits:
Rhinoplasty results in a balanced nose shape permanently without leaving any breathing disorders. However, these outcomes can't be seen instantly, it will take a few weeks. Sometimes one session isn't enough to acquire the desired shaped nose so your doctor may suggest you get another one. People usually prefer Rhinoplasty surgery because of its tremendous benefits, some vital ones include:
Desired nose shape, size, and nasal tip
Improved breathing
Improved facial appearance
Boosts self-confidence
Permanent outcomes
How Much Rhinoplasty Cost in Islamabad?
Rhinoplasty Cost in Islamabad Pakistan ranges from 70,000 to 400,000 PKR depending upon the nose condition of the patient, clinic location, and type of treatment. The patients can get the best Rhinoplasty at affordable rates by visiting the SKN Cosmetics & Plastic Surgery Clinic in Islamabad. The most prominent factors on which cost depends include:
Treatment Option:
Rhinoplasty surgery can be performed with an open or closed technique according to the surgeons' decision. However, Patients' nose condition plays a vital role in deciding which treatment they can get. Every treatment has specific fees so the cost would vary in such cases too.
Surgery Expense:
Rhinoplasty is done for both medical and cosmetic reasons. If someone is getting this treatment for medical purposes, the cost would be different as compared to standard cosmetic reasons.
Practitioners' Fees:
Highly experienced clinicians cost different as compared to standard ones. Although, Rhinoplasty surgery involves sensitive incisions, must be done with care so it's advised to get this treatment from a professional surgeon to avoid risks and complications.
Numbers of Sessions:
Each session has specific fees and the number of sessions is decided by the surgeon according to the results acquired from Rhinoplasty surgery. Sometimes people aren't satisfied with one session can get another one for desired outcomes. Discuss it with your doctor!
Surgery Location:
Surgery location plays a crucial role in cost because every clinic has different rates according to the market price and staff experience. People usually chose the clinic depending upon their ease and affordability.
What is Expected after Treatment?
After getting Rhinoplasty, the patient can feel some mild swelling or discomfort which is temporary and will go away. Somehow, if the doctor has used un-dissolvable stitches in the nose, patients will be needing to attend a post-recovery session for removing them. After removing the stitches and dressing, slight bleeding can be faced which is common and temporary. However, the recovery process can take up to few weeks although it varies from person to person. Some aftercare instructions must be followed by the patients to speed up the recovery process:
Avoid strenuous exercises for a few weeks
Don't blow your nose
Avoid sun exposure
Limit your facial expressions for some time i.e. laughing, smiling
Avoid the contact of water with your nose
Discuss sleeping position with your doctor
Let your nose heal properly. In case you feel some discomfort, consult to the doctor
Book an Appointment?
Everybody desires to look attractive with a perfectly shaped nose. We provide the best surgeries in the most comfortable atmosphere to overcome nasal concerns without any complications. So if you're facing nasal deformities or you want to improve your nose appearance you can feel free to consult SKN Cosmetics & Plastic Surgery Clinic for the best Rhinoplasty Cost in Islamabad Pakistan.