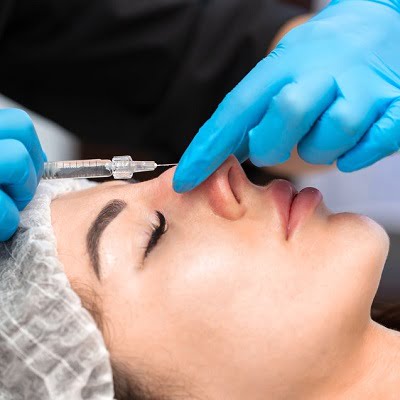 You no longer need to worry if your facial harmony and confidence are hampered by nasal flaws. We'll explore the world of cosmetic procedures for addressing nasal flaws in this blog post. These procedures can assist you in achieving your objectives, whether they involve improving your overall facial appearance, fixing breathing problems, or reshaping your nose. Additionally, SKN Cosmetics is a name to keep in mind if you're searching for a reputable cosmetic surgery facility. With our knowledge and dedication to patient satisfaction, Royal Cosmetics can help you on your journey to a new nose. Get ready to say goodbye to nasal flaws! Read on to learn more about Rhinoplasty in Islamabad.
Ideal Candidates For Rhinoplasty:
People who are unhappy with the way their nose looks or who have breathing problems from functional issues are good candidates for rhinoplasty. They should have realistic expectations for the procedure's results, be physically mature, and be in good general health. Candidates should have a stable emotional state and a positive body image, so emotional health is also crucial. Rhinoplasty may be the best option for you after discussing your concerns, goals, and medical history with a qualified plastic surgeon.
Rhinoplasty (Nose Reshaping):
With the aim of enhancing the nose's appearance and enhancing facial harmony, rhinoplasty is a common and effective procedure. A dorsal hump, a bulbous or droopy tip, a deviated septum, or asymmetry are just a few issues it can fix. Rhinoplasty can result in a more balanced, refined, and aesthetically pleasing nose by carefully sculpting the nasal structure.
Septoplasty (Nasal Septum Correction):
A functional nasal procedure called a septoplasty is a great option to treat a deviated septum. It can impair breathing and obstruct the nasal passages. Septoplasty, which primarily intends to enhance nasal functionality, can also have favorable aesthetic effects by straightening the nasal septum, giving the face a more even and symmetrical appearance.
Revision Rhinoplasty:
Revision rhinoplasty is a specialized procedure. We use it to improve or correct results from an earlier rhinoplasty that were unsatisfactory. It addresses problems like persistent nasal asymmetries, breathing difficulties, or unhappiness with the initial result. Revision rhinoplasty can assist in achieving the desired nasal aesthetic and functional improvements with careful planning and skill.
Non-Surgical Rhinoplasty:
Non-surgical rhinoplasty provides a transient but effective remedy for those looking for a non-invasive alternative. This procedure uses dermal fillers to reshape and contour the nose in order to correct minor nasal flaws like a dorsal hump or asymmetry. Non-surgical rhinoplasty offers quick results with little recovery time.
Nasal Tip Plasty:
Nasal tip plasty is a specialized procedure designed to improve the nasal tip's appearance and shape. It can improve projection, fix asymmetry, or smooth out a bulbous or droopy tip. This procedure can produce a more defined, balanced, and aesthetically pleasing nasal tip by carefully shaping and repositioning the cartilage in the nasal tip.
Rhinoplasty at Royal Cosmetics Islamabad:
It's essential to pick a reputable clinic with qualified staff when thinking about any cosmetic procedure. Royal Cosmetics is a reputable brand in the cosmetics sector, known for our knowledge and patient-centered philosophy. Your procedure will be supervised by our team of knowledgeable surgeons, who will provide you with individualized care and close attention to every last detail.
How To Choose The Best Surgeon For Rhinoplasty?
Everybody has unique nasal flaws, so it's important to seek detailed advice from a qualified professional. We will assess your specific problems, discuss your aesthetic goals, and recommend the best procedure(s) to fix your nasal flaws.
Take Away:
Finally, to address nasal flaws, transformative procedures like rhinoplasty, septoplasty, revision rhinoplasty, non-surgical rhinoplasty, and nasal tip plasty are available. These procedures can assist you in achieving a more even, unified, and assured nasal appearance, regardless of whether you want to improve your nasal function or appearance. And SKN Cosmetics is here to help you on your search for a reliable cosmetic surgery facility.