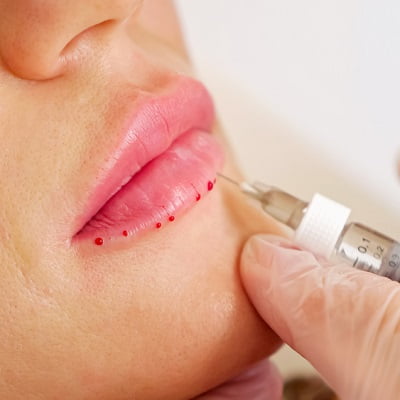 Lip fillers in Islamabad recreate the symmetry and alignment of lips by adding volume and plumpness, creating aesthetically pleasing and properly outlined lips. Their use has become quite popular these days because of the provisions that lip fillers provide. Though it creates a more noteworthy appearance, some people also wonder whether fillers can conceal a gummy smile. This blog will inform you about whether this procedure can hide a gummy smile.
Lip Fillers: Ins and Outs:
A filler is basically a gel-like substance such as hyaluronic acid that is used to produce plumness and a fuller appearance. It is a cosmetic treatment that is carried out to add volume, improve the look and regain natural-looking plumpness and dumpiness of lips. People undergo this minimally invasive treatment to improve their facial profile by dealing with saggy and droopy lips. 
The substances used in fillers are biocompatible and do not create any harm or issue such as infection, etc. Though this is not a surgical treatment but an expert has to do this procedure to get better results and reduce the risks of side effects. Besides improving the volume and symmetry of lips, fillers reduce the appearance of ageing signs such as wrinkles and fine lines.
Will Lip Fillers Hide A Gummy Smile?
A gummy smile refers to a smile when gums are more visible normally because of excessive gum tissues. A gummy smile leads to self-consciousness and makes a person think about his/her smile's aspects. It is often considered as a loophole and many people seek professional treatment to address that issue.
If you are curious to know whether lip fillers can hide a gummy smile then here is your answer! Yes. Fillers can conceal gummy smiles. No doubt, fillers offer temporary results and do not last long but they can hide your gummy smile. It means they offer a multitude of benefits. Not only do lip fillers improve your facial profile by adding volume to lips and improving the symmetry and contour of your lips but also conceal your gummy smile, unfolding the confident and optimistic version of you.
Botox VS Lip Fillers: Which Is Best?
Both are in-demand cosmetic procedures as they offer a plethora of benefits, reducing the appearance of skin-related blemishes and producing a better impression of a specific area. The choice between these two procedures generally relies on an individual's concerns and his/her specific requirements. Furthermore, a practitioner may also choose one of them to offer demanded results and recreate the lost appeal of an individual's facial profile.
Lip Fillers Price In Pakistan?
The cost of lip fillers in Islamabad, Pakistan generally depends on factors such as the type and amount of filler to be used, the number of sessions that an individual intends to get, the clinic's location, available facilities and the expertise of a practitioner.
Can I Hide My Gummy Smile Through Lip Fillers?
Yes, you can conceal your gummy smile and make yourself more confident. Lip fillers improve the appearance and contour of lips by adding substances such as hyaluronic acid, creating a stout appearance and concealing a gummy smile. 
Summing Up:
Lip fillers in Islamabad offer a contoured and fuller appearance. Filler is a cosmetic treatment that is performed to address sagging skin and create a fuller and more appealing look by restoring the lost volume and attractiveness. If you are worried about your gummy smile then you can also hide that imperfection through lip fillers. The application of fillers hides several skin blemishes such as wrinkles, fine lines and gummy smiles. Your gummy smile diminishes your confidence and stops you from exhibiting your best then try this minimally invasive to get back your appealing and rejuvenated appearance.
Book your appointment at Skn Cosmetics Clinic to regain your lost confidence and self-reliance. We offer satisfactory results through our patient-oriented approaches. Visit our clinic and the most suitable treatment to meet your aesthetic ends. 
FAQS:
Should I Smile With Lip Fillers?
Yes, you can express your happiness through your smile after getting your lips fillers. But you should be very careful in initial days so that your smile does not disturb the placement of your fillers.
How long do lip fillers in Islamabad last?
Lip fillers in Islamabad are not permanent treatments. They offer temporary results and after a certain time, their benefits and obtained results start fading. The results of these fillers can last from 9 months to a year. Furthermore, the duration of their results may increase or decrease based on an individual's lifestyle.
How many injections for gummy smiles?
The number of injections can vary from person to person because of individuals' specific requirements. Normally, 2 to 4 units are enough to conceal a gummy smile.