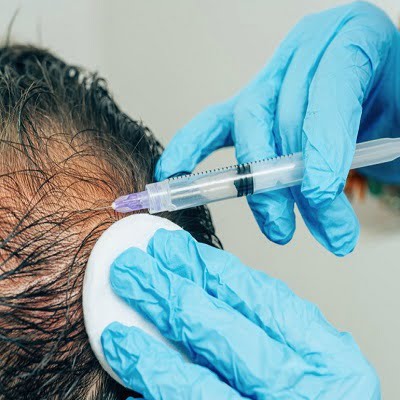 Are you experiencing a handful of strands? To reduce the male and female pattern of baldness, the experts believe that a person should get effective treatment that will be helpful for you. It could be several causes of hair loss but it will be better to stop the hair loss before it's too late.
You need to consult SKN's best hair specialist who will let you know about the effective and safest treatment. Somehow, one of the helpful treatments for reducing hair fall is PRP Injections. If you want to know more about the Best PRP hair treatment in Islamabad then read this blog post. Here, you will learn complete information about the treatment. Continue reading!
About Platelet-Rich Plasma Treatment:
One of the natural therapies that are performed by your own blood plasma is known as PRP Hair Treatment. It is an injectable method that is used to perform as the practitioner will extract your blood's plasma and inject it onto your scalp. The plasma will reverse the hair fall and make your hair volume enhanced. Moreover, it is suitable for everyone except those who have other hair loss problems and they are not able to grow again. It can be performed in multiple sessions for providing desirable results. Your hair specialist will examine the condition and recommend you this treatment on such terms.
How Does It Work?
According to SKN Cosmetics, the process of injecting PRP is very simple and is performed in three major steps. Firstly, the practitioner will extract your blood from your arm typically, put it into the blood container and sent it to a centrifuge. A centrifuge is a machine that spins the blood container continues for 15 minutes and separates the blood elements. Whereas, the plasma will be extracted out of the container through a syringe and injected into the scalp accordingly. The total duration of the procedure will be 30 to 40 minutes as it depends on how many numbers of injections you require.
What Are The Benefits?
Generally, a lot of benefits can be achieved after getting the PRP hair loss treatment. However, some common benefits are mentioned below:
Non-surgical and effective procedure.
Your own plasma will be used.
It will improve the volume and texture of hair.
Satisfying and noticeable results.
Suitable for everyone.
Cost-effective and safest procedure.
No complications and risks in it.
Improves the quality of your life.
PRP Therapy Results:
After getting the treatment, you will get amazing and noticeable results within 3 to 5 months. It can vary from person to person as some clients achieve the outcome after 4 months and some may obtain it later. However, the results will be effective and stay for the long term. To maintain the desirable results, you can get more sessions of these injections.
How Much Does It Cost?
The average cost of the Best PRP hair treatment in Islamabad ranges between PKR 13,000 to PKR 20,000 Per Session. The cost may vary from person to person because everyone doesn't consider this treatment for the same issue. However, there are a few factors that can affect your cost like choosing an expert practitioner for your treatment, location and reputation of the clinic, number of sessions and other supporting charges.
Furthermore, want to get more information regarding treatment price or its impacting factor then call us or visit our clinic for helpful guidance.
A Note From SKN Clinic!
Hair loss is a common problem for every single person whether it's a young or old person. But to ignore the condition and make it complicated for the future can be a detrimental situation for you. So, it is better to treat your hair fall problems through effective treatments like PRP injections. Feel free to consult SKN Cosmetics where you will get reasonable cost ranges and be treated by our expert hair specialist. We are here to give you a memorable experience!