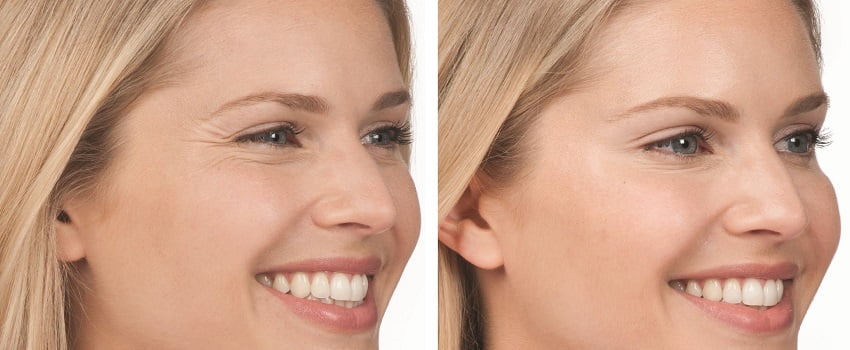 It is a natural fact that when a person gets older, the skin undergoes slight changes. Some of the face parts are sensitive that can easily get aging signs on the face and around the eye area. The Crow's feet are those lines that appear around the eye areas and spread out slightly. It will get more visible over time because when you make facial expressions, they get more visible.
If you have these irritating signs and it lowers your self-confidence, you need to consult SKN cosmetics for Crow's feet treatment in Islamabad, Pakistan. In this blog post, you will learn about its treatment, results, and major causes. So, keep reading!
Treatment Options:
According to SKN cosmetics, every type of crow's feet can be treated; several options are available. Your expert dermatologist will examine your condition and recommend a suitable option for treating these lines with your desired results. Some common treatments are mentioned below with a little detail:
Topical Creams:
Suppose you have an initial level of these lines around your eyes. In that case, your dermatologist will recommend some effective products like Tretinoin, which is usually used to reduce these signs from the face. This product will boost the new skin's production. However, it is not a good option for those who have deep and severe fine lines. Its results will be seen after 20 to 24 weeks.
Botox Injection:
Another effective and injectable option for treating wrinkles or fine lines is Botox (Botulinum Toxin) that improves wrinkles that appear when a person makes facial expressions. Mostly, experts recommend this treatment for reducing the aging signs and wrinkles. It will last for 3 to 5 months.
Chemical Peels:
The chemical peeling is a method that will improve your crow's feet' appearance and also make you look younger, healthy, and glowing. This method will perform according to the level of chemical peels like light, medium, and deep. It may require multiple sessions, according to your dermatologist's advice.
Dermal Fillers:
It is another injectable treatment option that is used to perform dermal fillers. These fillers will be injected and reduce your wrinkles. Different fillers are only recommended according to your dermatologist's suggestion. He/she will recommend you a suitable filler after reviewing your situation. These fillers last for 4 to 12 months and depend on the individual candidate.
Laser Resurfacing:
The most effective and long-term solution providing treatment option is Laser, which will remove your wrinkle and crow's feet by removing upper layers of skin and revealing a new and younger look. It will heat these layers of skin and promotes the production of collagen. The dermatologist may give you pain-reducing medicines or apply numbing cream before the treatment. Its results will be lasts for ten years or more than that if you take care of yourself according to the dermatologist's instructions.
Therefore, these are the main treatments for treating crow's feet and reduce them according to a suitable option. All candidates are ideal except those who have severe skin issues.
Aftercare Instructions:
The aftercare instructions of Crow's feet treatment in Islamabad, Pakistan, are important to follow. The dermatologist will prescribe you some post-care instructions according to your skin and treatment type. Some common instructions are mentioned below:
Try to avoid sun exposure and limit yourself, use sunglasses and wear a hat.
Moisturize your skin daily, do not let your skin dry.
Eat healthy foods which make your skin healthy and younger.
Do exercise daily for blood revolving.
Do not smoke or drink alcohol.
Use antioxidants like vitamin C.
Causes of Crow's Feet Around Eyes:
The major causes of appearing crow's feet around eye areas are mentioned below:
Environmental damage like UV rays and pollution.
Fewer Oil glands that leave skin drier.
Making facial expressions a lot.
Due to age.
Having a Poor Diet.
Unhealthy lifestyle and poor skincare.
About Cost:
The average cost of treating crow's feet treatments is 25,000 PKR, the minimum cost range is 20,000 PKR, and the maximum cost range is 40,000 PKR. Moreover, it depends on some factors that can affect costs, like the expert dermatologist's fee, clinical location, session requirements (if needed), and treatment type.
All Summed Up!
However, it is normal to have aging signs, and there are many recommended treatment options according to your desired results and suitability. If you want to get treatment at a reasonable price, feel free to consult SKN cosmetics; we offer amazing treatments with satisfying results.