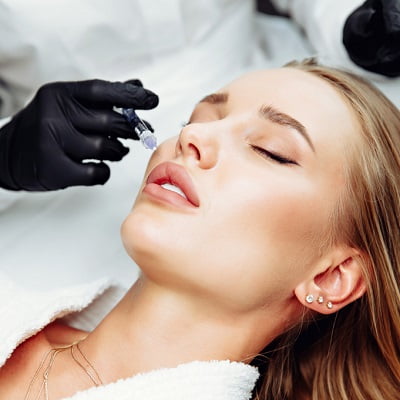 Aging can cause several visible problems such as hollow, sunken cheeks and a dull overall appearance of the face. Unfortunately, there is no cure for the aging process, and it cannot be slowed down either. But that doesn't mean that we give up entirely. Today's technology and scientific advancements have made it possible to reverse at least some of the damage that occurs due to the aging process. Face Filler Injections Cost in Pakistan is affordable as compared to getting them done from anywhere else in the world. They can help you look younger than your years and even slow down the aging process to a fraction.
About Treatment:
Derma Fillers are injectables that are made up of a number of substances, including calcium hydroxylapatite, hyaluronic and Polylactic acid and
Polymethyl-methacrylate microspheres. All these substances are essential and help promote collagen production in the face. These fillers help fill in the hollow areas in the face, such as the cheeks, around the mouth, and sometimes even the lips. These fillers are injected into the skin to make the face appear more fuller.
How long do they last?
Most injectables last from six months to two years, depending on what is inside them and where you get them injected. It should be noted that each individual will experience different results that vary due to changes in immune systems and metabolism, etc. However, if you are getting more than one area of your face treated, it is recommended that you visit your dermatologist more than often.
Benefits:
Fillers have several aesthetic benefits that help boost the confidence and self-esteem of the person getting them. Some of the benefits of getting fillers are:
Your face looks youthful and fuller
Your wrinkles and fine lines disappear
They increase the production of collagen and elastin in your skin
The results are almost instant, and there is no wait or recovery time period for this treatment.
This treatment yields long-lasting results that require minimal touchups
Fillers are a good and quicker alternative to getting a facelift.
Cost:
The cost of getting fillers depends on several factors, such as where you get the fillers from and how many areas of the face you get fillers for. Collectively the cost of getting fillers varies from PKR 30,000 to PKR 45,000. This price tag includes the follow-up sessions, the technician's fee, the numbing agent, etc. You can always opt to get the procedure done for cheaper, but that would not be recommended as cutting costs for this Treatmenttreatment can backfire and cause serious side effects.
Factors defining the cost:
The total expense of getting facial fillers depends on the following factors:
1) The Treatment Area:
It is well understood that if you are getting more than one area of your face treated, then it will cost you more money as compared to getting only on the area of your face treated. If you are getting lip fillers along with getting cheek fillers, then it will cost you more money ad compared to only getting lip fillers. However, if you are going to get fillers for your entire face, then you should note that it would cost you a good amount of money.
2) Where You Are Getting Treated From:
If you opt to get treated at a private clinic and enjoy complete privacy, then you should note that it would cost you more money as compared to getting your Treatmenttreatment done from a regular hospital.
3) What is Included in The Treatment:
Another factor that determines how much getting fillers would cost you is that what is included in the total price. Sometimes you have to pay extra money for the follow-up sessions and the doctor's fee, while some clinics will offer you a complete package that includes everything.
You should do proper research before getting facial fillers because sometimes, the clinics even have hidden charges that are only made clear after you book a session.
Insurance Coverage:
It should be noted that, unfortunately, insurance does not cover this Treatmenttreatment as it is considered a beauty essential and has no impact on the person's health. There are some insurance companies that will cover a small portion of this treatment.
Why Choose Us?
SKN Cosmetics offers the best Face Filler Injections Cost in Pakistan, along with a complimentary consultation session! So what are you waiting for? Book your appointment today!