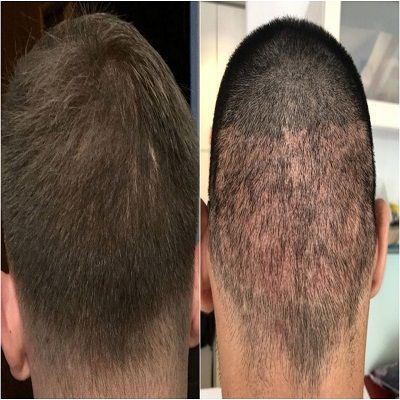 The two most common techniques of hair transplant include:
1.      Follicular Unit Transplant (FUT)
It's the strip procedure to restore the growth of your hair. This traditional hair transplant can leave scars on your scalp. 
2.      Follicular unit extraction (FUE)
This method encourages new follicles to get rid of baldness or other hair growth problems. However, it's the most efficient method which can enhance your hair development without leaving any seeable scars. Scarless hair transplant uses this method for the ease of patients.
Scarless Hair Transplant
Scarless hair transplant is the most popular type of transplant in which the practitioner uses the Follicular Unit Extraction (FUE) method to enrich the growth of your hair via promoting the new follicles. Every hair transplant has some scarring, however, this procedure doesn't leave any noticeable scars on your scalp but a complete scarless hair transplant isn't available for now, somehow it may be possible in the future. As compared to the traditional process Follicular unit transplantation (FUT), this technique escapes the scars caused during transplant. People prefer (FUE) because of less discomfort or barely visible scars.
Results
Results that come from this transplant usually depends upon the surgeon's expertise. However, the results attained from (FUE) method are more effective because of its less invasive nature. This hair transplant technique doesn't require long recovery periods although it produces less discomfort during treatment. The outcomes are enduring and permanent if you continue to follow the recovery instructions for the long term.
 Benefits
This hair transplant can regenerate your hair easily. The major comfort that comes from this treatment is the 'least visibility' of scars. Practitioners' effort hard to improve the growth and volume of your hair. Some common benefits can be achieved after having the scarless hair transplant:
The hair will grow for a long time
Your overall appearance can be easily enhanced
Baldness problems can be resolved
You can get easily get rid of the embarrassment
Natural-looking, thick and strong hair are attained
Most of the people get their hair recovered in only one session
You won't be needing a long recovery period
You will look attractive and younger
Results can be permanent
Are you a good Applicant?
Before having this transplant, you must be aware of your medical condition to escape discomfort. You are a perfect candidate for this treatment if:
Your age is 25 or above
You're facing baldness problems
You have tight scalp skin
You are willing to improve your appearance
You don't smoke or drink
You're not suffering from any allergic reactions
Preparation before treatment
Before getting your hair transplant done, you should prepare well by following some instructions completely to avoid soreness during treatment. Some major ones are:
Discontinue blood thinners
Avoid the medications that contain aspirin, somehow it's better to stop the other regular medications too
Stop smoking or alcohol consumption
Don't color your hair, a day before treatment
Don't get this treatment done if you are pregnant
Don't use spray or gel on your hair before the treatment
How it's done?
Scarless hair transplant can be done by using (FUE) technique to reduce baldness glitches. At first, your surgeon will clean and shave the treatment area to start the actual process through local anesthesia. The hairs are carefully extracted from the donor area to prepare them for transplant. Once it's done they are gently placed on the bald area. This whole process can take from 4 to 5 hours. People who face fewer baldness problems can be treated early as compared to others.
Aftercare
Once you're done with the hair transplant, you will be in a recovery area for some time. Practitioners usually suggest some specific instructions to their patients depending upon their health condition. However, some major guidelines must be followed by every patient to get the efficient recovery and long-lasting results.
Avoid the intake of smoking and alcohol
Don't perform physical actives for a few weeks
Avoid touching or rubbing the treatment area
The sleeping position must be upright for 2 or 3 days
Don't panic if you face mild swelling, itching, or slight pain because these conditions are temporary will go away within a week.
Cost
The cost of scarless hair transplant in Islamabad usually varies from clinic to clinic. Some patients face extreme baldness problems, costs would also differ in such cases. However, there are some common factors on which cost depends:
Fee of clinician
Number of sessions you take
Amount of area where you want treatment
Why choose us?
Most of the people suffer from hair thinning or baldness problems. Are you suffering from this mess too? No issue, you can easily get a hair transplant without leaving any visible marks by having 'scarless hair transplant' at our clinic. Our surgeons deliver the best services in Islamabad. Feel free to consult SKN Cosmetics & Plastic Surgery clinic to consider Scarless Hair Transplant in Islamabad, Pakistan.