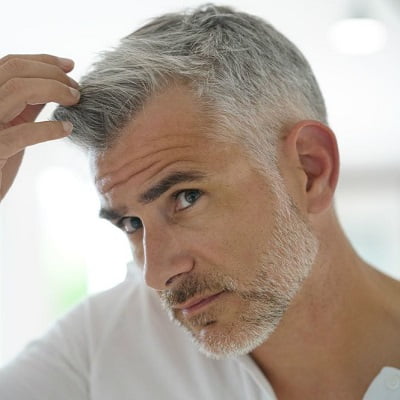 Many people around the world have hair loss issues, baldness and thin hair. Besides these common issues, another misconception is that people think if they have white or grey hair means they can't have hair transplantation. It is totally a wrong concept about this procedure. They think that transplantation can't happen due to white or grey hair. 
SKN is performing successful Hair transplanting treatment for the past few years that deals with all type of issues. Our surgeons handle such cases very effectively and skillfully. This blog post will cover all about Hair Transplantation for White or Grey Hairs, its benefits and results. 
Overview:
First of all, we discuss why white hairs appear. When a person approaches their 40 age the hair starts turning white. Whereas many people have white hairs due to genetics, unhealthy diet and due to stress, anxiety etc. you cannot extract them if they are natural. 
Although, many people have full white hair due to their genes and if they are facing hair fall then a hair transplant is a good option also for these candidates. 
Hair Transplant For White & Grey Hairs:
According to SKN cosmetics, hair transplantation is an alternative option for restoring hair and improving the volume of the hair by natural process. White hairs can be used during the transplantation, the process will be the same just like other transplanting procedure. The methods will be the same, they can perform FUE or FUT, depends on the choice of candidate. 
The hairs will be extracted from the donor site and place on the treated area. If the practitioner is extracting and placing white or grey hair, it will grow the same at the recipient site. If the black hair is transplanting, the colour will be the same. So, it is not a big difference in the procedure and results. The total duration will be 5 to 6 hours of transplanting or depends on how many grafts need to insert. 
A note to remember: If a candidate has full white hairs and he/she wants to dye them after transplantation so it is necessary to consult before dying your hair from your dermatologist. Do not try to dye your hair after 2 to 3 months of transplantation, it will affect your scalp and placed grafts. 
Preparation & Aftercare Instructions:
In the initial session of consultation, your dermatologist will examine the scalp area and hair texture, quantity etc. If a candidate has white hairs more than black then it will use white hairs for transplantation and if they have few black hairs and want to place black as compare to white then it will be a good option. The surgeon will prescribe few pre-op instructions to preparing for a procedure such as, do not trim your hair, don't smoke or drink alcohol and keep yourself hydrated. 
The post-care instructions are important to follow after the procedure for making the transplanted area in good condition. The dermatologist will prescribe you few instructions related to your health and treatment and you have to follow them for achieving optimal results. Some of the common instructions are; do not touch or rub the treated area unnecessarily, avoid going out in direct sunlight, use prescribed medications for painkiller and antibiotic for infection and don't consume blood thinners, it will slow down the healing process. 
The Results:
The outcomes of  Hair Transplantation for White or Grey Hairs are effective and long-lasting. Our clinic provides accurate and miraculous results according to the desire of the candidate. The optimal results depend on person to person, it is important to follow the post-care instructions for it. A candidate will start observing growing hairs after 2 to 4 months of procedure and complete results will be obtained after 8 to 10 months. A patient should have a patience level for obtaining complete results and strictly follow the aftercare tips. The before and after photos may take for showing satisfying results. 
 Advantages of White Hair Transplanting:
There are a lot of benefits to the hair transplanting procedure, the major advantage of this procedure is that it is also effective even for white or grey hairs. Some additional common benefits are mentioned below: 
The natural hairs will grow.

 

Your white hairs will be improved.

 

It is an effective method for placing hairs.

 

The appearance of the face will be enhanced.

 

Free of scars technique.

 

It has a speedy healing process.

 

Guaranteed placements of hairs.

 
Why Choose Us? 
The SKN cosmetic is a clinic of excellence that can perform hair transplantation even for white or grey hairs successfully and perfectly. We have experienced surgeons who can easily handle such delicate cases very skillfully. If you want to consider treatment of hair transplant from us then feel free to consult SKN cosmetics. We will provide you with the best services.