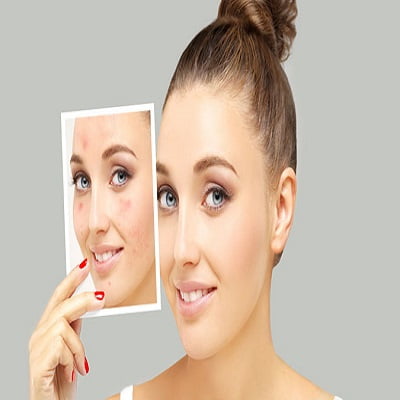 Acne appears and leaves scars that can fade away with time as some people don't care about it. But sometimes, it gets a stubborn and prominent scar which can annoy you all the time because many people tried to pop it and it becomes a long-term scar. Thankfully, there are various types of acne scar treatment that can remove your stubborn scars and make your skin new and spotless. 
Now you can easily get rid of such acne scars as SKN cosmetics is offering effective and safest treatments that can provide you successful results. You may have a query now How long does it take acne scars to heal? So, read this blog post where you will find every type of information related to acne scars and their treatments. 
An Overview:
According to experts, everyone wants fresh, clear, and spotless skin, and such scars form when the skin of a person gets damaged. Firstly, it is important to treat your active acne and don't give it a chance to become scar as you need to take good care of your skin. Somehow, when the scar forms, you may feel uncomfortable, unsatisfied, and repulsive. 
The best way to treat them is to choose a board-certified and experienced dermatologist. As the expert one will examine your skin type, your scar type, and overall condition and then recommend you a suitable treatment. 
Treatments For Acne Scar Removal:
At SKN cosmetics clinic, there are several types of treatments that are offered by our clinic for treating acne and acne scars. These procedures are painless and minimally invasive that will give you smooth and naturally healthy skin. Common treatments are mentioned below:   
Laser Treatment. 

 

Chemical Peel. 

 

Fillers.

 

Micro-needling.

 

Surgery. 

 
Therefore, these are the most effective and ideal treatments for treating stubborn acne scars. If you want to know more about these treatments then you can contact us or visit our clinic anytime. 
How to Treat an Acne Scar?
According to our dermatologist, the procedure will be done at our clinic and if you want a totally painless procedure then the practitioner will use numbing cream on the treated area. After that, the practitioner will start the procedure (the chosen method) and complete it according to procedural steps. It may take 1 hour only and multiple sessions for giving effective results. 
After the procedure, your dermatologist will prescribe you some aftercare instructions for taking good care of your skin and you can go home. However, if you feel any reaction or redness for more than a week then immediately consult your dermatologist. 
When will acne Scar Heal?
After knowing all about acne scar removal treatments, your main concern will be that How long does it take acne scars to heal? So, it totally depends on the type of procedure and your scar type. The results vary from person to person. If people undergo surgery then they will get the outcome right after the surgery. Otherwise, if you are choosing non-surgical treatments like laser, chemical peel then it will require multiple sessions for providing noticeable results after a few months. Still, if you want to know the exact statement about it then you need to consult your dermatologist who will examine you then tell you all about the condition. 
The Cost:
The average cost of acne scar removal treatments in Pakistan ranges from 5,000 PKR to 20,000 PKR. Also, it depends on person to person's condition. The acne scar removing procedure requires multiple sessions because it doesn't work in a single session. Moreover, there are several factors that can affect the cost of your treatment, mentioned below: 
The Expert Dermatologist's Fee.

 

Location and reputation of the clinic.

 

Session requirements.

 

Chosen method.

 

Other supporting charges.

 
Furthermore, if you want to know more about cost-related queries then you can contact us or visit our clinic for knowing the exact cost range.  
All Summed Up!
Therefore, acne or its scars are treatable and SKN cosmetics are offering high-quality treatments that will not only remove the scars but will provide you smooth, spotless, and new skin. So, if you want to get rid of such type of skin then feel free to consult us. Our dermatologists are experienced and professional by the well-known clinic in Islamabad. We are looking forward to you!