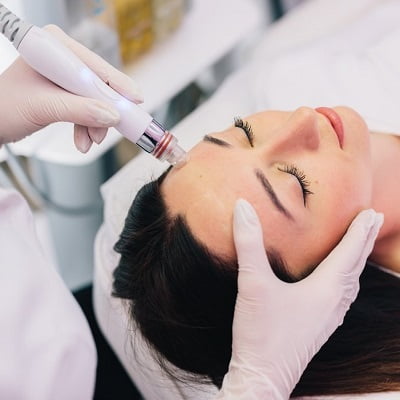 Only washing your face doesn't work accurately and can't remove pollution dirt! Somewhere, our skin needs a proper treatment that naturally removes all the impurities and gives you smooth skin. Good news for you, SKN cosmetic performed several treatments to give your skin a perfect texture. One of the most effective and highly recommended treatments is hydrafacial.
Many people assume that getting a one-time treatment will provide desired results. No! It doesn't seem right; every treatment requires multiple touchups for better results. If you are that one who is confused about How Often Can I Receive Hydrafacial Treatments, then you will get the answer in your initial consultation session.
In this blog, you will learn about hydrafacial, it's working, its results, and how many times you can get the treatment. So, take a moment and read the following information.
An Overview – Hydrafacial:
It is a quick and efficient face treatment that involves only three steps: deep cleansing, exfoliation, and hydration. One of the best skin care procedures available is the hydrafacial, which is often carried out in a medical facility by skin specialists with years of experience. The fact that hydrafacials are appropriate for both genders and all skin types is its best feature.
Furthermore, it addresses various skin issues like wrinkles, acne, hyperpigmentation, sun damage, oily skin, dry skin, and rough or aging skin texture. For doing this, a hydraulic tool is used to scrub and exfoliate your skin thoroughly while distributing serums created specifically for your skin type.
How Does It Work?
According to skn cosmetics, the practitioner will clean your skin and prepare your skin for the facial procedure. Dead skin cells and extra sebum are first removed from the skin as part of the HydraFacial procedure. To remove any dirt or oil that may be obstructing the skin's pores, a solution of salicylic and glycolic acid is then administered to the skin.
When fluid is pushed onto your face with the facial tip, it forces trapped dirt out your pores and, together with blackheads, dirt, oil, and pollutants are practically vacuumed up. All of this is carried out as nourishing, plumping, and moisturizing serums are applied to your skin.
How Long Will the Results Last?
After getting a first-time hydrafacial treatment, you will get immediate, desired, and effective results. The effects may last for several weeks to months, or it depends on person to person. Also, it requires multiple sessions for best results as some people get desired results in just 2 to 3 sessions or others may require more than eight sessions.
However, it would be best if you choose someone expert for your facial treatment because performance matters a lot in effective results. After that, you have to take good care of your skin by following the instructions of your facial expert.
How Many Times You Can Get Hydrafacial?
It would be best if you get a HydraFacial every two to three weeks, according to the skn experts. Your initial appointment will include an evaluation of your aesthetic preferences objectives as well as a skin type and skin quality assessment.
Many people are still unaware of the fact and still frequently ask that How Often Can I Receive Hydrafacial Treatments. All of the information will allow us to decide how frequently you need to spend money on facials like the Hydrafacial. However, making appointments every two weeks makes sure that your face remains tight, moisturized, smooth, healthy, and youthful.
Suitable Number Of Sessions:
Basically, it depends on a person's skin condition, concerns, and requirements. In the initial consultation session, the expert will examine your skin type and condition; they will recommend you a suitable number of hydrafacial sessions. If you follow the instructions, you will get desired results. Otherwise, you will not get satisfying outcomes. Anyhow, the average number of sessions is 5 to 8.
All Summed Up!
Therefore, you can get hydrafacial treatment after every two to three weeks, and it may require 5 to 8 sessions for better results. On the other side, it would be best if you consult with skin experts and discuss everything. Then, they will respond to all your queries and give you desired results. So, if you want to get amazing hydrafacial, feel free to consult skn cosmetics. We are here to provide you with a memorable experience.