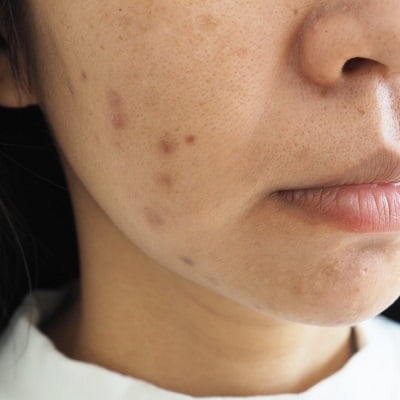 Suppose you are among the few lucky ones who won their battle with acne; you might feel like that's the end of it. But there is one more thing you need to take care of; acne scars and dark spots left behind by the pimples.
If you are asking yourself how to get rid of dark acne scars, then you aren't the only one. That's why SKN Cosmetics offers numerous treatments to clients suffering from this issue. These treatments vary in cost and the time for each to work effectively.
Post Acne Spots:
Even if your breakout cleared away a few weeks ago, the pigmentation left behind by them remains on the skin for a long time. These spots can stay on the skin for months, and sometimes they don't disappear for years.
Even though these pigment marks on the skin cannot be termed as scars, they are still evidence of the acne breakout. These spots are a result of the inflammation caused by the breakout, which causes hyperpigmentation on the skin where the pimples healed.
There are several cases where the pigment disappears from the skin for good, but the spots are stubborn in some cases. This is most common in people with darker skin colors. These dark spots don't signify any irreversible damage and can easily be treated.
Causes:
The discoloration left behind after a breakout is caused due to inflammation that disturbs the natural recovery time of the skin.
When the pimple is ruptured and heals on its own, the surrounding skin develops a darker shade and texture. This makes the healed spot stand out from the rest of the skin.
Even if you don't pick on your pimples and they heal naturally, there will still leave discoloration marks on your skin. However, this is not the case with everyone.
It can be somewhat challenging to figure out what causes the pigmentation as each person has them for different reasons.
But the bottom line is that you should avoid touching your face and picking at the pimples to avoid causing them to react and leave behind blemishes.
How To Get Rid of Dark Acne Scars:
Blemishes caused by acne can take several months to get rid of, but they are not permanent. There are several medications available in the market that help with the treatment of acne pigmentation and scars.
Retinoids: This is the most common medicine used for treating acne. It's a topical treatment and should only be used in minimal quantities. It is best to use this medication in 0.025% forms.
Hydroquinone: This is a lightning agent used for bleaching the skin. It is super helpful in treating hyperpigmentation and is used to treat dark marks from healed acne treatment. It also reduces the size and severity of the spots.
Apart from ointments and topical medicine, other methods used to reduce the discoloration include:
Laser Treatment: The method of removing the pigmentation is pricy and do not opt for it. However, it is the most effective way to rid the skin of any dark marks and spots. The discolored spots on the skin will absorb the light source and break down the damaged cells. These cells are then flushed out of the body. This procedure requires more than one session, depending on how dark the marks are.
IPL Procedure: This is a beauty treatment used by people to reduce aging and excess body hair. Doctors also recommend this cosmetic procedure for acne scar treatment as it reduces spotting and lightens the darker skin regions. The main difference between getting laser treatment and this method is that IPL emits several wavelengths at the same time instead of one, covering more skin in less time.
What Are You Waiting For?
Now that you know how to get rid of dark acne scars? All of these treatment methods are available at SKN Cosmetics at very affordable prices. To top it all off, our specialists also provide a complimentary consultation session to help you better understand the procedures. This will make it easier for you to pick the best treatment according to your needs and requirements. So fill out the consultation form to book your consultation session free of charge today!