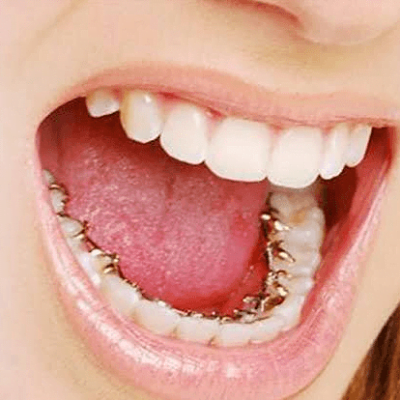 Invisible braces permanently align your teeth without using visible wires. SKN Cosmetics & Plastic Surgery Clinic provides these braces at reasonable rates.
Invisible Braces:
Invisible Braces Cost in Islamabad, Rawalpindi & Pakistan are used to enrich the appearance of the mouth by fixing the misalignment of teeth. These braces are prepared from ceramic or plastic material to provide a more natural look by moving teeth into their absolute position without needing wires. As compared to traditional braces they work more efficiently. To maintain oral hygiene the braces must be removed before every meal and brush your teeth once you're done with the meal. Invisible braces can be worn 20 hours per day and must be replaced every two weeks. The whole process can take 10 to 15 months. They are used to treat conditions like:
Spaced teeth
Crooked teeth
Misaligned teeth
Duration of Treatment:
The duration of treatment depends upon the type of invisible braces you're using. There are few types of invisible braces, each has a certain time and recovery period. The three major types of invisible braces include:
·         Ceramic Brackets
These braces are not removable, but they aren't as strong as metal braces. They align your teeth with mild irritation which can take between 11 to 20 months.
·         Inside Braces
 Inside braces are attached from the backside of teeth so they aren't displayed in front of your mouth to provide a better appearance during the healing process, this type of invisible braces can take from 6 to 40 months depending upon the condition of the teeth.
·         Clear Aligners
Clear Aligners are invisible and removable braces. They are usually removed during eating or drinking, this process can take from 10 to 40 months.
Invisible Braces Cost in Islamabad:
Invisible Braces Cost in Islamabad Pakistan varies from  200,000 to  290,000 PKR. Their prices are a bit higher than wired braces but they worth more as compared to traditional ones. SKN Cosmetics & Plastic Surgery Clinic provides these braces at affordable rates. The cost usually depends upon factors like:
·         Patient's Teeth Condition:
Every person has a specific condition of their teeth. Some people face extreme cracked or broken teeth, such patients require more sessions or a long duration of treatment which costs different as compared to standard procedures.
·         The Type of Treatment you Choose:
Invisible braces contain a few types of treatment, each has a specific period for recovery which carries different costs.
·         Scaling Requirement:
Some patients have uneven, misshaped, and unhygienic teeth. To attain optimal results these types of patients require scaling before the treatment starts. The cost usually varies depending upon the scaling required.
·         Location of the Clinic:
The location of the clinic also plays an important role in cost. Every clinic has a different market price. However, patients should choose the clinic near to the residential location for the ease of getting post-treatment sessions.
Is It Worth Getting Invisible Braces?
Invisible braces are worth it, however, their rates are a bit higher as compared to wired ones but they provide a more natural look. These braces can easily enhance your confidence level without making anyone notice. They can resolve every sort of teeth related issue. The ideal age for the placement of braces is up to 14 years because the mouth isn't completely grown which leads to straightening teeth effectively.
Benefits:
Invisible braces are the short-term orthodontic system that has gained popularity in the dental industry. The major comfort of these braces is the invisibility, without displaying any wires it heals your teeth and prevents misalignment permanently. Some key benefits include:
They can increase your physical confidence and self-esteem
They can be worn to deal with minor, moderate, and extreme issues
This process doesn't involve any cuts or nicks to fix braces as compared to wired ones
They are used to remove the stigma
They can help to give a better-improved smile
They are harmless and removable
These braces provide improved dental health
You don't need to avoid many foods
They are comfortable to wear
Why Choose Us?
Everyone deserves a better smile. Choosing your treatment location is one of the biggest decisions someone can take. Our clinic provides the best and efficient services to our patients. If you desire to improve the health of your mouth by making it aligned and regularly shaped. Feel free to contact SKN Cosmetics & Plastic Surgery clinic to consider Invisible braces Cost in Islamabad, Rawalpindi.