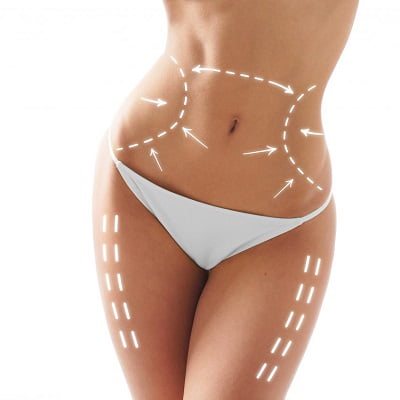 If you are unpleased because of extra deposition of fat around your belly you can go for cosmetic surgery to get rid of such deposition.  Today, most of us are in race of staying fit and achieving well-defined body shape. Belly fat is considered to be the worst enemy of our body that is usually deposited in the mid-section. When planned exercising and dieting schedule are really not enough for removing fat from the belly, people find it impossible to get rid of it. But it is not true. Liposuction also called as lipoplasty is an effective way to break and suck excessive fat from the body. This technique not only works on belly but also play role in eradicating fats from thighs, back, arms and buttock.
Facts About Stubborn Belly Fat:
Stubborn belly fat is one of the most discussed and common health issues of present day. Let's discuss some of the facts about it:
Fat deposited in abdominal region of the body, is determined by genetics and is stored in the area of mid-section. As compare to legs and arms mid-section requires little energy to move it around.
Most of the health issues usually arise due to belly fat. That's why it is the worst enemy of our body. It is because belly fat is linked to insulin resistance, hypertension, increased levels of LDL cholesterol and triglycerides in blood and heart diseases.
No matter how disappointed it is that doing number of crunches and sit-ups doesn't play any role in flattening your belly. These exercises can help in strengthening the belly muscles but do not burn the fatty material.
Reasons Why Liposuction Is Best Way For Reducing Belly Fat:
Properly shaped body significantly helps in boosting self-esteem and confidence. It becomes possible when you feel good about yourself the way you look. With the help of liposuction surgery, all those people who want to contour their body shape for boosting confidence and improving physical appearance can take advantage.
The procedure of Liposuction in Islamabad is performed in a very safe and effective manner for removing abdominal fat. It involves suction technique for eradicating fatty deposits. Surgeon starts the procedure, by inserting the cannula/tube into the skin. Fat is sucked through the tube from the targeted areas. Various liposuction techniques perform the same function tumescent Liposuction, ultrasound-assisted liposuction and laser-assisted liposuction.
Due to the fatty deposition, you come up with dented appearance of skin that causes embarrassment. Fatty deposits in the body give rise to the formation of cellulite that misplaces the connective tissues underneath the layers of skin. It causes changes to physical appearance by altering the texture. With the removal of fat, liposuction also improves the appearance of cellulite by breaking fibrous bands.
For getting perfect body shape, liposuction is the best technique that is used widely. It tightens the bulging belly, tones up the buttock and gives slender thighs. This technique has transformed the appearance of many people throughout the world. At SKN Cosmetics, you can't only get the desired body shape but you can also throw away your insecurities and self-doubts. Liposuction helps in getting attractive body profile.
Sculpting Difficult Areas of the Body:
Certain fat rich body parts remain ineffective through diet and exercise. It is not easy to burn fats under your skin as well as subcutaneous fat. Majority of subcutaneous fat is deposited in hips, butt, lower abdomen and thighs. Liposuction is the only treatment that works on these areas by sucking out the harmful subcutaneous fat. This type of fats becomes the common reason of chronic diseases like hypertension, heart diseases, cholesterol and type II diabetes.
So, give a complete transformation to your appearance and get an appealing and perfectly shaped body and flat midsection with liposuction at Cosmetic Surgery in Islamabad.