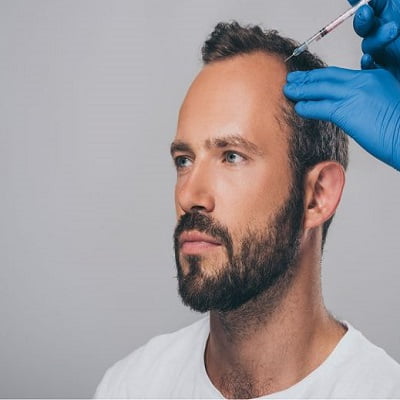 When it comes to self-care, everyone gets conscious and requires enhancing their appearance. Nowadays, hair loss is a big and common problem that every other person is experiencing. If you are the one who needs hair restoration treatment with healthy hair growth then a combo of Hair Transplant and PRP therapy is the most appropriate option that will give you 100% satisfying outcomes.
In this blog post, you will get helpful information related to PRP after Hair Transplant as well as how do they work, results and benefits. So, have a look!
What Are PRP and Hair Transplant?
Generally, PRP therapy is an injectable and non-invasive treatment option that is performed by the expert practitioner for boosting up the growth of hair. It can be performed in multiple shots as it depends on the number of PRP injections. The main purpose of PRP injections is to speed up the growth of hair and make it have a thick texture.
On the other side, a Hair transplant – a surgical procedure that is used to perform for inserting hair follicles on a candidate's own hair. It is performed under local anesthesia and it has two main methods, one is FUT – strip extracting method and another one is FUE that is performed by extracting individual hair grafts.
How Do They Work?
According to SKN cosmetics, both treatments work according to their purpose. PRP Hair Treatment in Islamabad works as the practitioner will extract blood from the arm and put the blood container into the centrifuge for 15 minutes, when the blood elements get separated, the plasma will be filled into the syringe for the shot. The plasma will be injected on empty spots where the volume of hair will be less. The PRP single session will take 30 minutes and without any complications.
However, hair transplantation is the surgical procedure that is performed under local anesthesia by extracting hair follicles from the healthy donor area and implanting them on the recipient or patchy areas. It can take up to 4 to 5 hours for completing a procedure and it requires a proper period of recovery. Moreover, it is a permanent solution for hair restoration.
Can a Person Get PRP After Hair Transplant?
Yes! Of course, people who recently have hair transplants can get PRP therapy for more boosting hair growth. When the hair transplant gets done, it requires a few weeks to healed and after that, you can get your PRP session for speeding up the new growth of hair in a thick and strong texture.
However, there are specific candidates that cannot choose PRP after hair transplant due to the low healing process but you may need to consult with your hair specialist who will guide you with the best. Somehow, it also depends on a person's health condition and hair growth situation.
The Expected Results:
Generally, the outcomes of PRP after Hair Transplant are effective and satisfying which makes your hair naturally thick and strong. In hair transplantation, the growth will start to observe after 2 to 3 months and PRP can provide results after a few weeks. So, it depends on the candidate's health and practitioner's skills and expertise. Taking good care of your treated area is also plays a major role in great results.
Benefits of Having PRP After Hair Transplant:
Apparently, there are a lot of benefits for hair growth when these two procedures will perform at one time. However, some common benefits are mentioned below:
The combination will provide effective results.
Long-lasting and natural appearance of hair.
It will increase the density of hair follicles.
Encourage and improve restoration of tissue.
You will get a double response in a single time.
Improves the quality of life and lessen the scarring.
The cost will be reasonable.
No major side effects or complications.
It will prevent you from hair loss in the future.
Improves the quality of life.
Is It Safe To Get PRP After Hair Restoration Surgery?
Obviously, it is the safest and effective method that provides a good chance for boosting up the growth of hair. Many people can possibly experience hair loss even after transplantation surgery so that is why PRP is effective and safe as the plasma will reduce the thinning texture and hair fall.
All Summed Up!
Therefore, if you are willing to get more effective results with a combination of such amazing treatments then feel free to consult SKN cosmetics for Hair transplant with PRP therapy. Our experts will perform this gratifying combination at a very reasonable cost with satisfying services. We are looking forward to you!