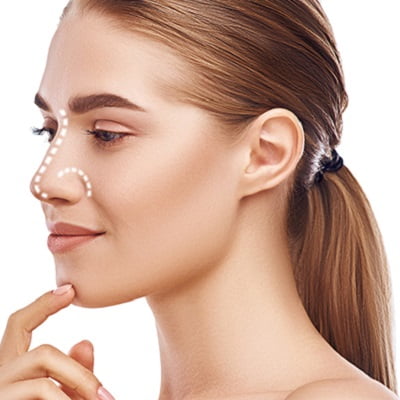 It is a surgical procedure that aims to improve the appearance of the nose by changing the size and shape of the nose. The cost of Rhinoplasty varies from individual to individual depending upon the results and changes he/she is expecting from it.
Rhinoplasty:
Almost every individual can undergo this procedure but their purposes of getting the treatment might be different. Rhinoplasty benefits us aesthetically by correcting the shape and size, and medically by restoring the form and functions of the nose such as breathing, etc. We are here to provide you outstanding services that will help you get a better version of you so that you can live your life to the fullest. After getting the surgery you will notice a clear boost in your confidence. With a perfect nose, you look more beautiful, attractive, and graceful. Different factors contribute to calculating the cost of a nose job.
You are a candidate for Rhinoplasty in Islamabad if you want to make some significant changes in your nose. It is a complex procedure and therefore requires great care and the experience of the surgeon. You can get this treatment for different purposes including,
You wish to improve the look of your nose
You want to overcome the ENT problem
You have large flaring wide nostrils
You nostrils are asymmetrical
You have prominent nostrils and wishes to have smaller nostrils
Want to improve the facial balance
You have a birth abnormality in the structure of your nose
When you smile your nose looks bigger
Factors affecting Cost:
Rhinoplasty Cost in Islamabad varies from one individual to another. Different factors play their role in determining the total cost of the procedure. Common factors of Rhinoplasty cost are,
Expected results
The result is one of the major factors of Rhinoplasty cost. As every individual demand different changes in the nose i-e some wishes to increase its size, some wishes to reduce the size while others get the treatment for medical purposes So, the cost varies with the results and changes, the surgery is producing.
The complexity of the procedure
The more complex the surgery is, the more is the total cost. We have board-certified surgeons at our clinic to perform this complex procedure.
Selection of surgeon
An experienced surgeon charges more fees of the procedure because his experience adds more in the total cost.
Other expenses:
Post-surgical garments, Anesthesia fees, prescription of medication, surgical facilities, and follow-ups contribute to the total cost.