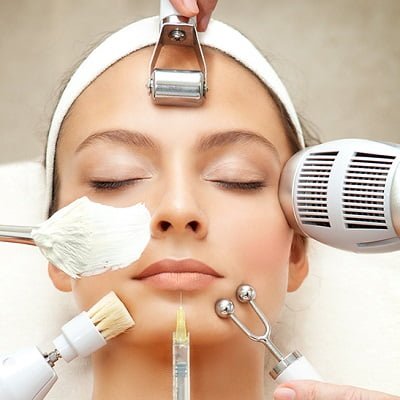 Thank you for taking the time to visit the official website of the SKN Cosmetic Clinic, a dedicated center of excellence. We are glad that you are here and hope you will spare a few minutes out of your busy schedule to learn about us and our unique services in the field of cosmetic dermatology and aesthetic laser therapy.
We offer a complete range of comprehensive skincare treatments to help you enhance your appearance and get your desired look. The extensive experience of our internationally recognized dermatologists and laser specialists, state of the art equipment, zero infection and scar approach, international standard patient care followed at the clinic, and stringent quality control measures ensure world-class medical care.
Skin is one of the most important and the most exposed parts of the human body. It is also the very first indication of your age and internal well being. Different skin types include normal skin, dry skin, oily skin and combination skin (one that inhibits properties of both oily and dry skin). We are one of the leading skincare providers in Dubai as well as in Pakistan offering treatments for all types of skin.
Our doctors specialize primarily in treating conditions that affect skin, hair, and nails, but what makes us a stand-alone in the field of dermatology is our extensive anti-aging program. Our dermatologists are specialized in dealing with anti-aging solutions for facial wrinkles, sagging skin, uneven skin discoloration, age spots, and fat deposits. Besides cosmetic dermatology, we also offer consultations for a number of dermatological conditions including Acne, Eczema, Rosacea, Moles, Fungal Infections, Warts, Birthmarks, Varicose Veins, and Port Wine Stains. Our doctors also offer guaranteed solutions for hair loss and thinning hair.
Laser technology is also being used all over the world for an increasing number of skin problems as well as cosmetic treatments. SKN Cosmetic clinic provides the latest laser treatments for hair removal, brown spots, stretch marks, and tattoo removal.
We also have a complete solution for freckles and blemishes, dark circles under the eye, under-eye bags and all types of scars. Treatments offered for these problems include Intense Pulsed Light Therapy (IPL), Fractional CO2 Skin Resurfacing, Mesotherapy and PRP (Plasma Rich Platelet). We are constantly trying our best to bring to you all the latest but safest in the field of Aesthetic Medicine. You will find Laser Skin Care a state-of-the-art clinic in Dubai and all the procedures are done here are strictly according to International Standards.
Some of the treatments offered by Laser Skin Care include:
–          Laser Skin Tightening
–          Laser Skin Rejuvenation
–          Laser Hair Removal in Islamabad
–          Laser Tattoo Removal
–          Medical Facial
–          Mesotherapy
–          PRP Treatment
–          Dermal Fillers
–          Wrinkle Treatment
–          Botox Injections
–          Skin Whitening
–          Pigmentation treatment
–          Non-Surgical Face Lift
–          Chemical Peels
–          Freckle Treatment
–          Melasma Treatment