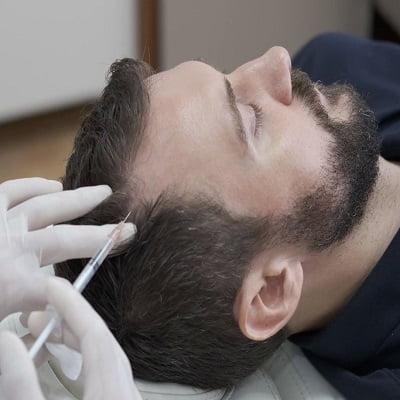 There is a common problem that probably every single person is experiencing whether it's a man or woman and that is hair loss. Usually, the world is developing with several things as people losing their hair at very initial age but also there are a lot of advanced treatment options introduced by a dermatologist.
However, it is an obvious fact that people prefer non-invasive procedures in the fear of not undergoing the knife. In this blog post, you will learn about one of the amazing treatment options known as PRP. So, keep reading for more information about What is Platelet-Rich Plasma? Can I do PRP at home?
About Platelet-Rich Plasma:
Generally, platelet-rich plasma that is also known as PRP in short usually performed for discontinuing the hair loss issues. It is a treatment option performed by an expert practitioner/dermatologist in simple three steps as extracting blood of candidate, separating the plasma from it and injecting on the head.
The main purpose of PRP Hair Treatment is to boost the growth cell of hair and make its texture of hair thick and strong. Moreover, it can be performed in multiple sessions if the candidate requires accurate results.
How Does It Work?
According to SKN cosmetics, the PRP is performed by the expert practitioner at the clinic. It will perform in simple three steps, first, the practitioner will extract the blood typically from the candidate's arm, and then it will contain into a blood container and be sent to the centrifuge (a machine that spins or rotates the blood) for 15 minutes. After that process, the plasma will be separated and filled into injections. Then, the PRP injections will be injected into targeted areas of the head. However, the procedure will take 20 to 40 minutes and apart from 6 to 8 months, the next session will be required accordingly.
What Is The Outcome?
The results of PRP injection will be effective and satisfying that promoting up the hair growth cells accurately. Sometimes, the results may depend on how many sessions a candidate has taken and the texture of hair. After PRP therapy, the candidate will observe changes after 5 to 6 months and the hair growth will enhance and improve. However, it is important to follow the session requirements and aftercare instructions for getting amazing outcomes.
Benefits:
Generally, there are a lot of benefits to those people who choose PRP for hair loss problems. Some common benefits are mentioned below:
It is a non-invasive and injectable procedure.
Provides natural and effective results.
Your own blood will be used for injecting plasma.
No major side effects and complications.
Only 15 minutes treatments per session.
If you want more accurate results, you can get more sessions.
Suitable for both men and women.
Can a Person Do PRP at Home?
After knowing the procedure of PRP injections for hair loss, it is important to know that it is an injectable treatment and requires special skills for injecting the plasma. A person cannot perform this procedure on himself/herself because no one knows in what area they require to inject it.
Moreover, if it goes wrong then it can lead you to severe issues and trouble. However, it is better to not try it by yourself and always see an expert and skillful practitioner for the PRP injections procedure.
All Summed up!
Therefore, after knowing all about "What is Platelet-Rich Plasma? Can I do PRP at home?" then feel free to consult SKN Cosmetics if you are experiencing any type of hair loss or having a thin volume of hair, we are offering PRP treatment in a very reasonable cost. It will speed up your growth of hair and make a thick texture. We are eager to see your presence!