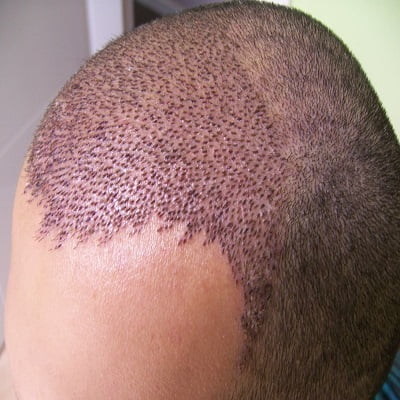 As we all know, with any surgical procedure the chance of complications and minor side effects after hair transplantation is a common factor. It is necessary to discuss with your practitioner all about terms and conditions related to the treatment in the initial consultation session. After telling you all conditions, it doesn't mean to let you worried about it or putting you off with your decision. Most candidates ask Why Does Shock Loss Occur After Hair Transplant. 
Some minor side effects like shock loss are common in hair restoration treatments. Many of them don't observe or experience such complications but a few of them around 6% do experience this side effect. For your understanding, here is a detailed blog post where we explain what it is. 
About Shock Loss:
A very minor and common factor that can be experienced by 6% of patients is known as shock loss. It is a phenomenon, where a candidate loses hair either from the extracting hair area or inserted hair area. At SKN cosmetics clinic, we have expert and experienced specialists who performed such hair surgeries under full concentration and with high skills. Whereas, even the most skilled practitioners can't prevent all side effects and complications. It doesn't mean that you had a bad hair treatment or damaged follicles. This issue is not specifically occurring in only one procedure, we have seen it in the extracted area of both FUE and FUT methods. 
Generally, shock hair loss is a natural part of all hair restoration treatments and the only thing anyone can do when it occurs is to simply wait and have the patience for the regrowth of new hairs. 
Concern About Shock Hair Loss:
According to research, there is no need to worry about it if you are experiencing shock loss after your hair transplant. It is guaranteed that after a few days, your hair will regrow and leave you with an additional volume of hair. 
Of course, if you are experiencing heavy hair fall or not feeling comfortable then you should consult your hair specialist who will prescribe you the best solution according to your situation. You can use hair lotions and special hair products to help to encourage your hair to grow well at a much faster period. The regrowth of new hair has appeared after a 4-month cycle. So, you can ask your hair specialist before and after treatment to your satisfaction what is best for you.
Is it Permanent?
No, Shock Loss after Hair Transplant is not permanent, it is a temporary situation that rarely occurs in 6% to 10% of patients. It can also cause psychological stress. Although, new growth of hair will be noticeable after a few months and return to normal and get some length. 
How Can Someone Prevent Shock Loss?
The prevention of this issue is not well understood and still, it is hard to predict the situation and prevent it. Still, if you are getting worried then you need to consult SKN cosmetics, they will recommend you to try low-level laser therapy which has a lot of benefits for healing and regrowth. There is also hair supplements that are prescribed by a practitioner for hair nutrition. 
The candidate should ensure that their hair specialist has plenty of expertise and experience with hair treatment surgeries and try to reduce the factors that may contribute to shock loss. 
Last but not the least, if you are planning for a hair treatment then you should make sure that the clinic you select has years of experience and find a surgeon who can thoroughly explain all about the complications and side effects. 
All summed up!
So, all summed up in one line, shock hair is not a permanent condition but even if you need consultation then feel free to schedule an appointment with the SKN cosmetics clinic in Islamabad. Our experts will provide you with helpful information and an accurate response to your problem