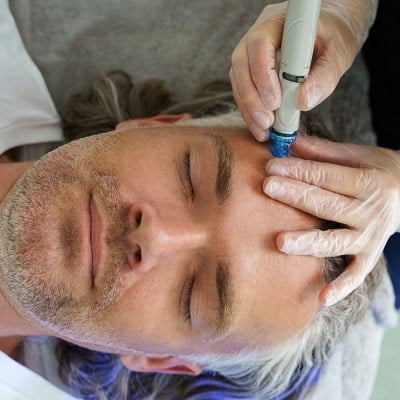 Hydrafacial has become the treatment of choice for many dermatologists. This procedure consists of four parts regimen. It works by hydradermabrasion device and takes about 30 minutes to one hour to complete. Hydrafacial delivers instant results along with no downtime. The face does not have any redness after it. One of the most alluring features of hydrafacial in Islamabad is that it is perfect for all skin types. If you do not clean your face daily, it will take a toll on your skin's health. It means that any skin care product will have no effect on your skin. Here, hydrafacial comes to your rescue. No joke- everyone is obsessing over the treatment. It makes your face cleaner than you cannot describe. This article will help you understand Why everyone is so obsessed with Hydrafacial these days?
So, What Exactly is Hydrafacial?
The "hydradermabrasion" procedure entails three steps. It cleans, extracts, and hydrates the skin for a pleasing glow. hydrafacial uses patented Vortex-Fusion technology. In comparison to a traditional facial, hydrafacial is much gentler. Additionally, it produces results right away. There is no inflammation, irritation, or downtime.
Therefore, without regard to science, we adore the HydraFacial procedure. It is one of the most satisfying treatments to give and receive because of what it can suck out of your skin. You'll walk away feeling renewed and on the path to clearer, healthier skin.
What Happens During Hydrafacial Treatment?
Removal of dead skin cells and extra sebum from the skin. This is part of the HydraFacial cleansing process. 

Skin treatment with a mixture of salicylic and glycolic acids. 

Any dirt and oil that are clogging pores will be broken up by them. 

Removal of blackheads, dirt, oil, and other impurities. It happens essentially by vacuuming with the HydraPeel Tip. 

Application of serums to the skin at the same time as hydrating, plumping, and nourishing it.
When do Hydrafacial Results Appear?
Consider a HydraFacial as more advanced than a typical facial. But less intense than a laser procedure. You can see the results of hydrafacial right away. Get ready for an improvement in texture and tone. This will be without any lingering itchiness or peeling. What is the only drawback for everyone? Following treatment, they no longer want to wear makeup. They appear too beautiful for any products to harm their skin.
Why everyone is so obsessed with Hydrafacial these days?
Here are some of the reasons why hydrafacial is so popular these days:
Anyone can go for hydrafacial:
Anyone can benefit from hydrafacial without regard to age. Adults with wrinkles, sun damage, pimples, and hyperpigmentation can go for it. Additionally, teenagers with acne can benefit from this treatment as well. This is because there are different Hydrafacial treatments for each type of skin. As a result, you will receive specifically tailored care to you!
Results are immediate:
No more anticipating your results with trepidation. After your treatment, your skin has noticeably improved thanks to hydrafacial! Your skin's texture and tone quickly improve without peeling or irritability. Now, you can have smoother, healthier-looking skin in just 30 minutes!
You Get A Healthy Skin:
You get a brighter complexion from this treatment. It also fixes the inherent problems with your skin. Firm, smooth, and younger-looking skin have now taken its place. Gone are the days of fine lines, wrinkles, blackheads, and enlarged pores. Since it does antioxidant skin hydration to improve the health of your skin.
It is Customizable:
Furthermore, the experts will specifically tailor the entire procedure for you. This will base on the damage, your skin type, and the texture of your skin. It comprises the tailoring of everything specifically for your skin. 
Safe and Effective:
Hydrafacial doesn't inflict pain, risks of scarring or any permanent damage to the skin. It includes procedures like microdermabrasion and chemical peeling. This procedure is safe for every skin type. It helps restore the skin's natural glow and shine.
You can pair it with other treatments:
Additionally, the HydraFacial procedure is non-invasive. Along with a Hydrafacial, patients may also undergo a few other skincare procedures. To achieve your ideal appearance, talk to your esthetician about combining. Hydrafacial along with other cosmetic procedures gives amazing results. These treatments are such as injectables or non-ablative lasers. On the whole, it hydrates and cleans your skin. 
Why Choose SKN Cosmetics for Hydrafacial?
Do you intend to get a Hydrafacial? The expert team of top dermatologists at SKN Cosmetics can help! In Islamabad, we are the only practice offering cosmetic surgery that is run by a board-certified plastic surgeon. Dr. Naveed Azhar and his highly qualified staff provide a variety of professional aesthetic treatments. It includes hydrafacials, injectables, laser hair removal, and more. To schedule a free consultation, get in touch with us or use our online form.