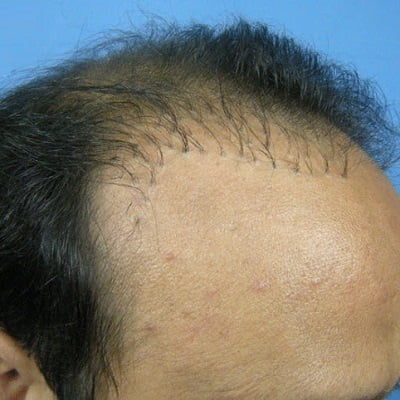 Follicular Unit Extraction (FUE) is basically a perfect technique of obtaining the donor hair for Follicular Unit Transplantation (FUT), where an individual follicular unit is efficiently harvested directly from that donor area, without even the need for any linear incision. With the help of this FUE technique, approximately a 0.8mm to 1 mm punch is used to create a circular incision in the scalp around the upper portion of the follicular unit, which is then directly extracted from the scalp.
With the help of FUE, your doctor can be able to exhibit individual hair units in various realistic growth patterns. Since your hair remains in the natural bundle of tissues, so your transplanted hair always remains healthy and has a reduced risk of damages during & after the hair transplant procedures.
Here are few more advantages of FUE:
No Linear Scar:
This is actually the main reasons why most people prefer FUE over strip harvesting because the latter leaves some visible linear scars. FUE is a best treatment of choice for many people that always prefer to wear their natural hair very short at the backside, because in that way the donor area perfectly looks unaltered. But FUE technique is commonly practiced by some expert doctors who have done many successful surgeries like these. That's why people prefer to choose FUE hair transplant by some experts who can provide them outstanding results for long run.
Instant healing:
FUE normally requires a short healing time as compared to some other different methods. So with FUE, patients usually recover in couple of days since the technique doesn't require any scalpel or sutures use. So resultantly, there are few minimal restrictions on tough physical activities after few days. Full recovery time period is approximately 7-10 days.
Natural results:
Hair transplant processes get some poor reputation for looking unnatural and unrealistic. Different hair plugs, scalp reduction and some other unnatural procedures leave unrealistic hairlines. Therefore a well experienced doctor can achieve artistic and natural results with FUE. It requires the shape of your face and natural hair growth processes to blend transplanted units into the rest of the hair.
Permanent:
Unlike different topical treatments like Rogaine, FUE is a best permanent procedure. Doctors perform offer non-surgical and non-permanent treatments, so that their all patients of heavy budgets and immediate needs can get whatever they are looking for. That's why; FUE is one of the recommended ways to get best permanent results. It is the most reliable permanent method available out there. If you're also on the great fence about FUE, then you should consider taking few moments to imagine living the rest of life without taking the stress of hair loss.
Bottom line
There are several more key advantages you would probably love to know. But just make sure that you are getting some high quality treatment with the help of efficient doctors. Because when you choose unreliable people with insufficient hair transplant knowledge then you may suffer for your entire life and no one could repair the loss. So be careful every time choosing these Hair Transplant Islamabad